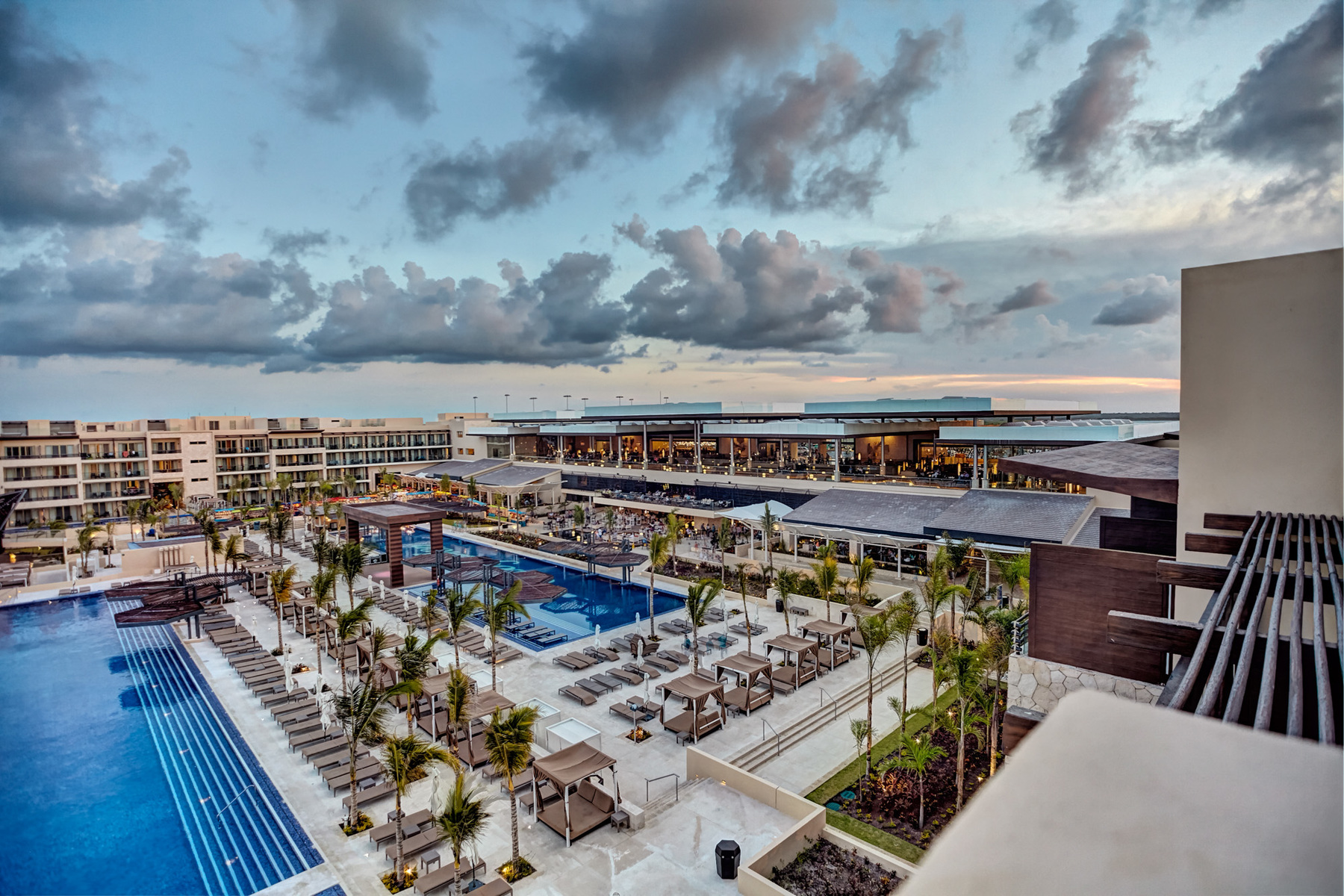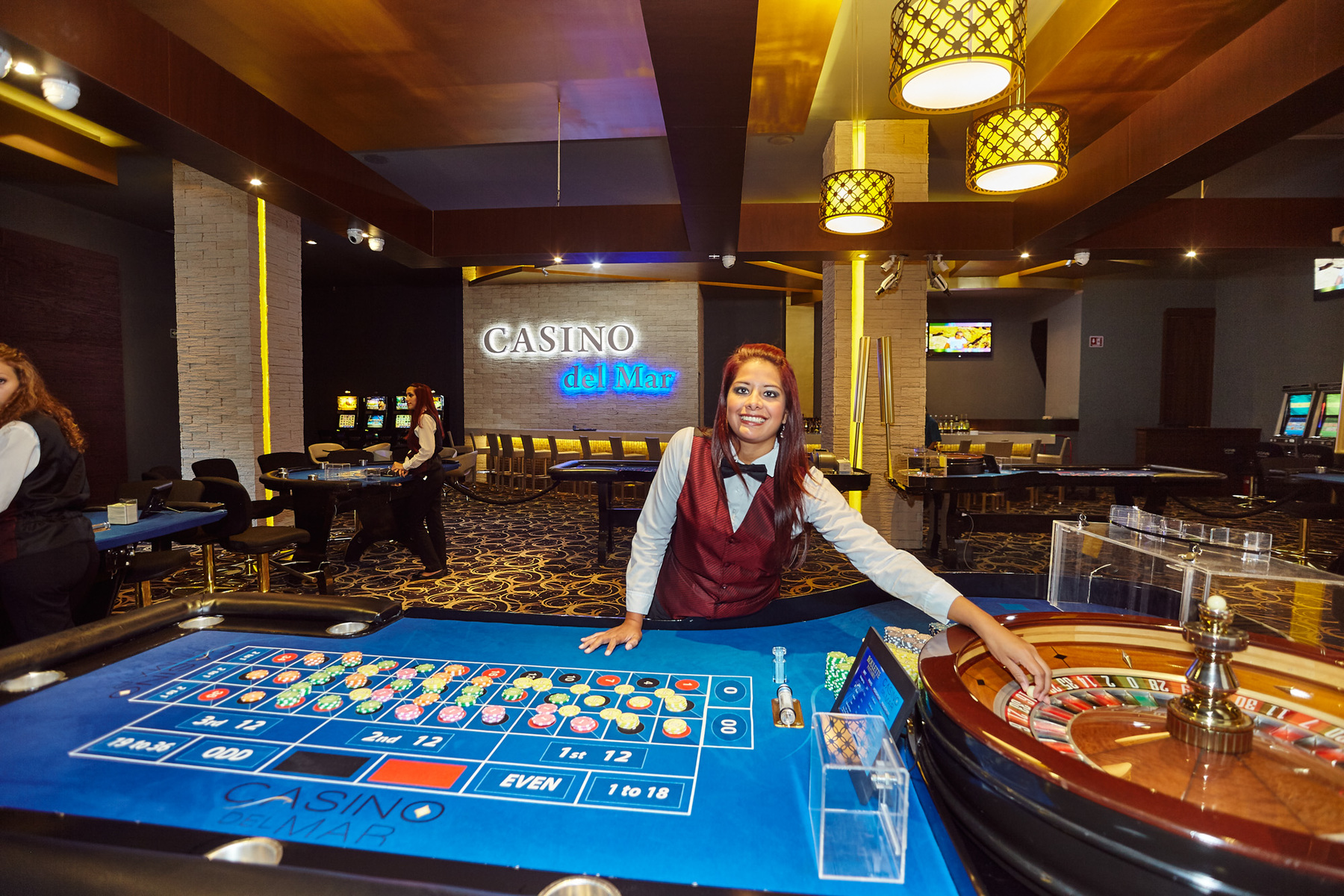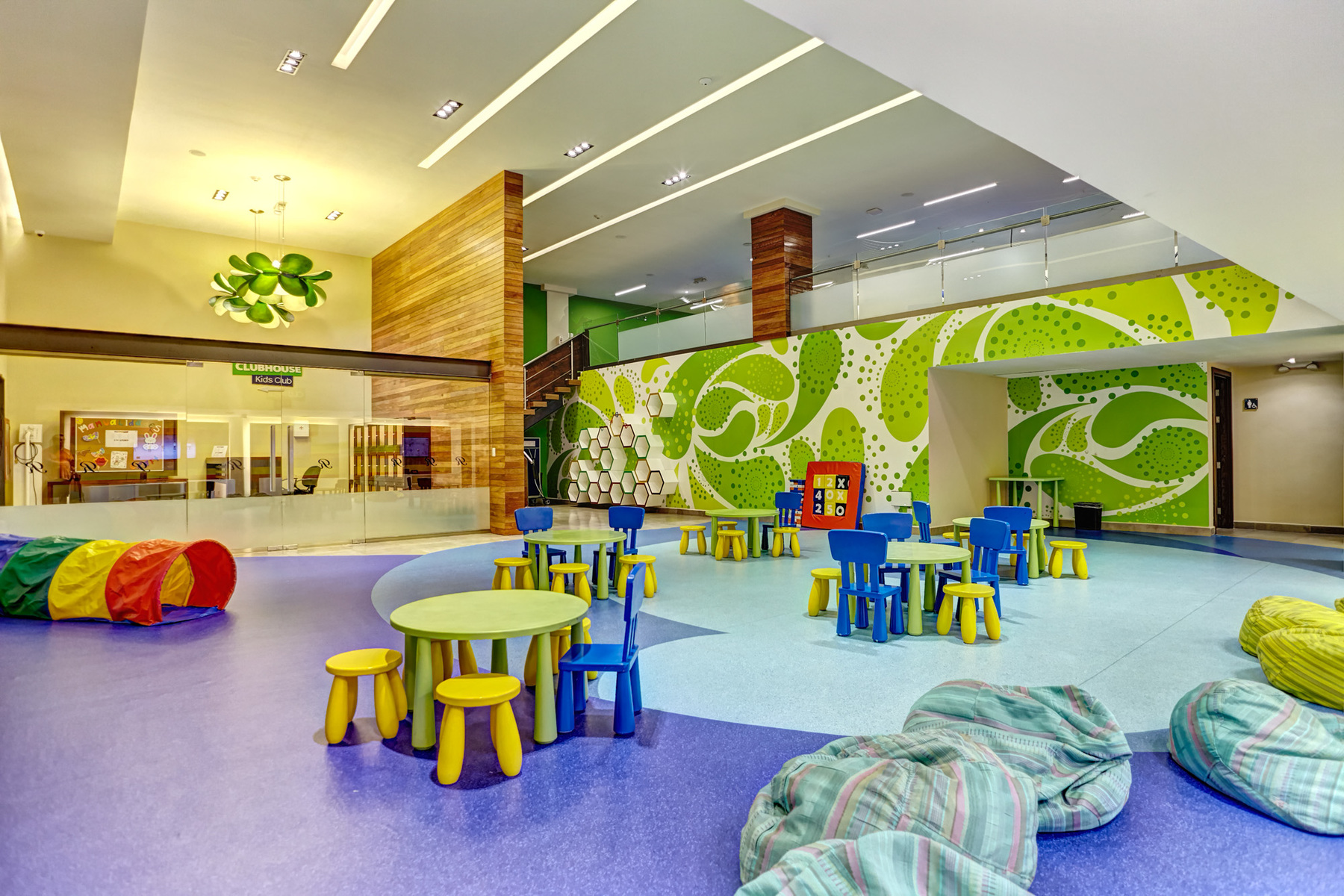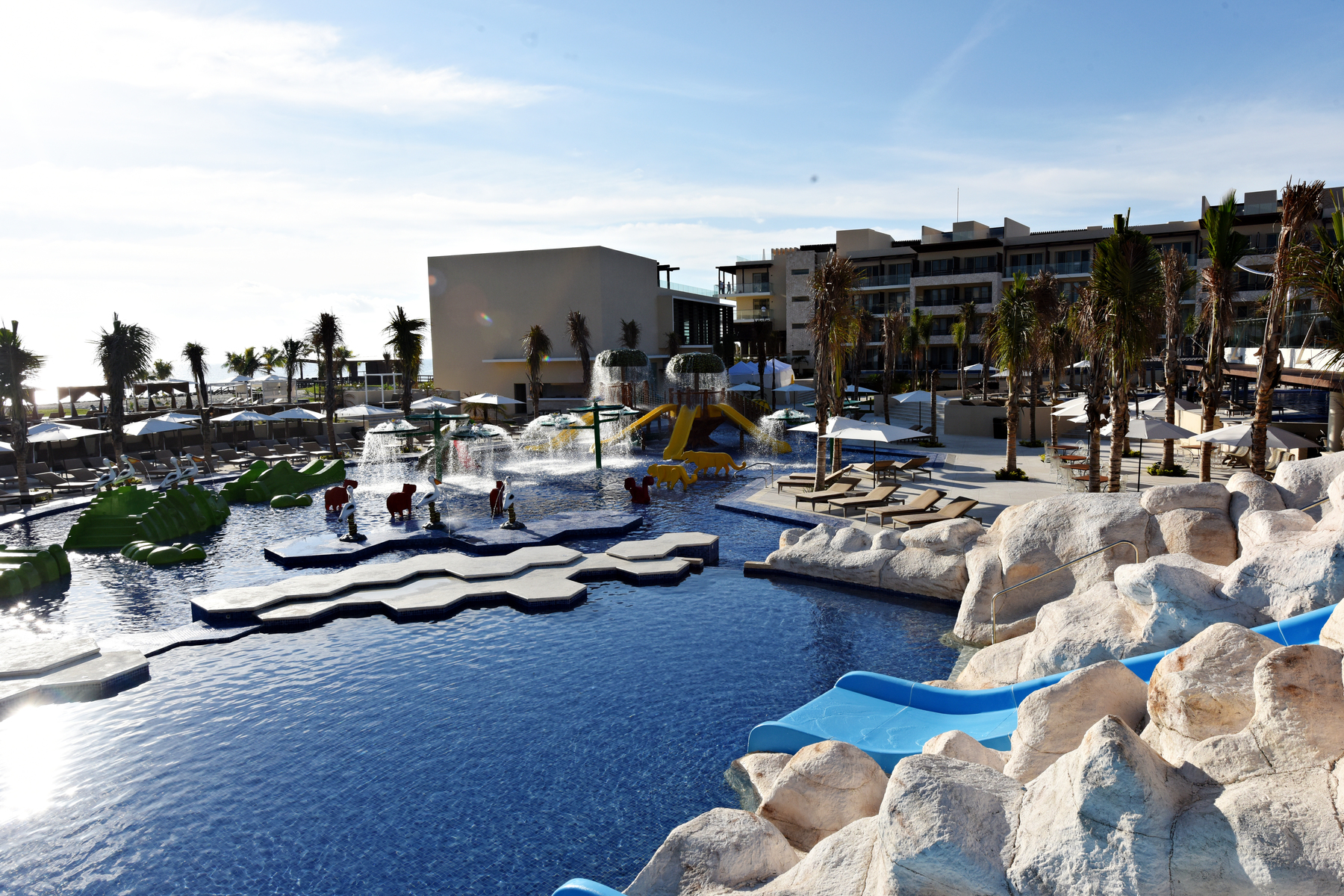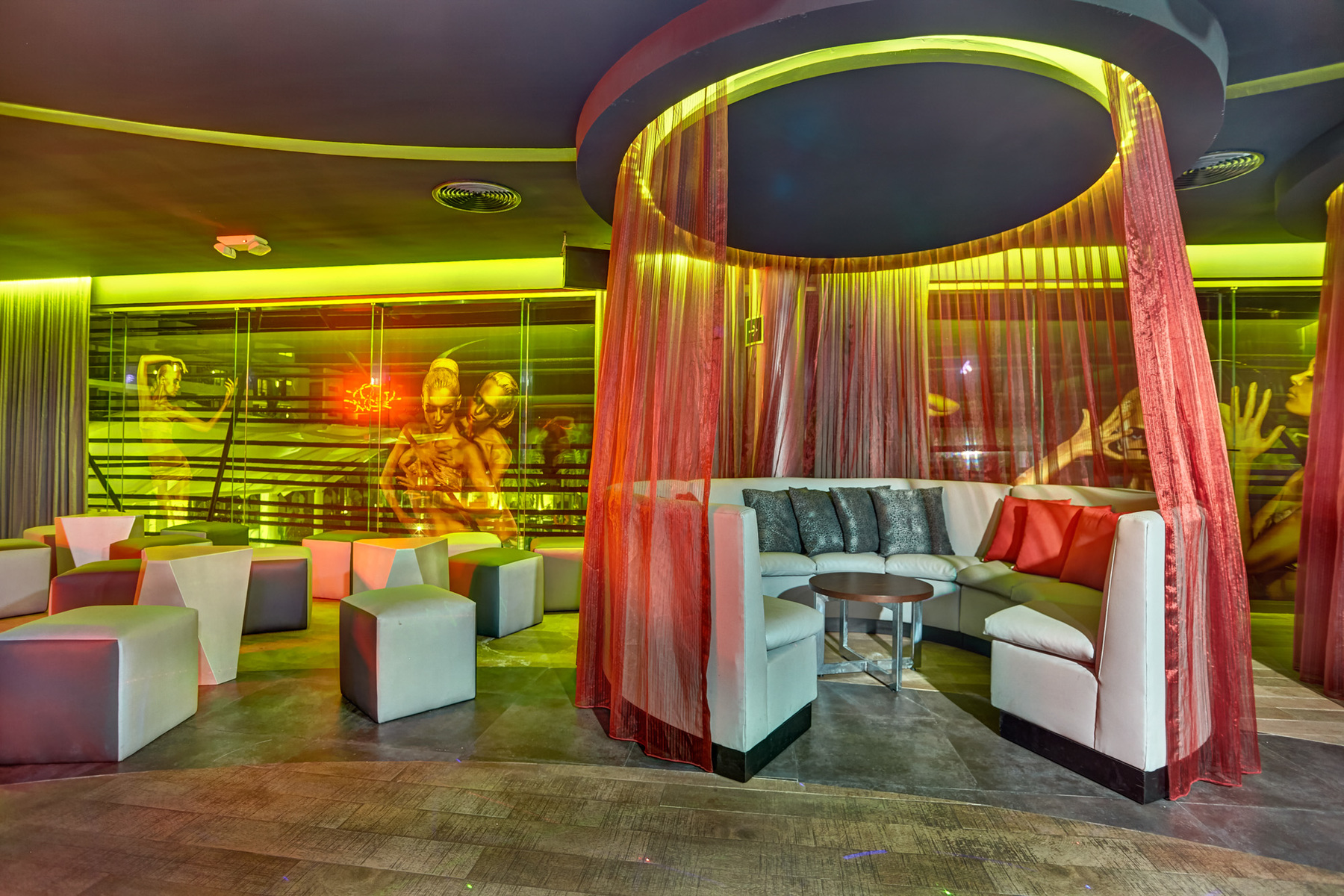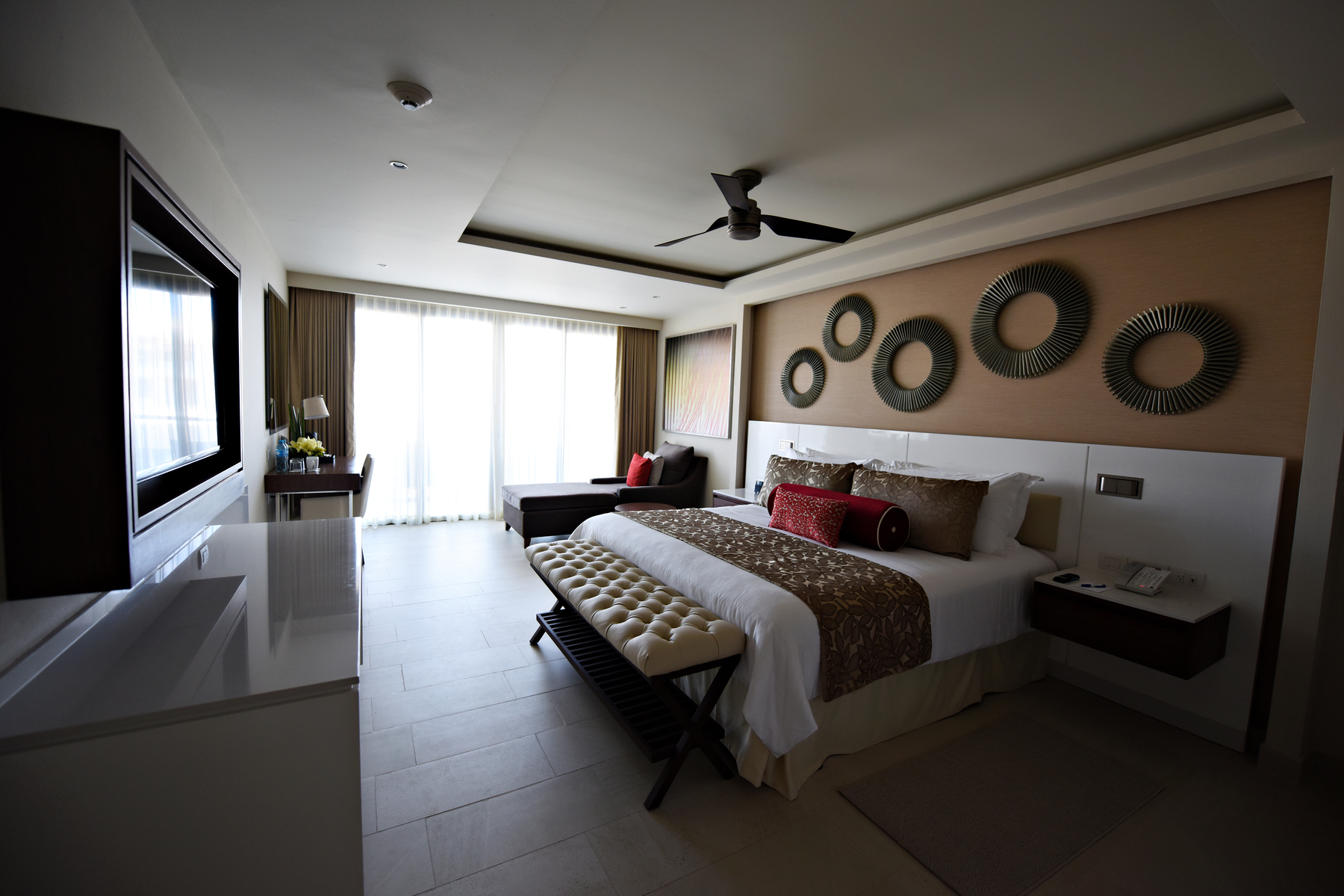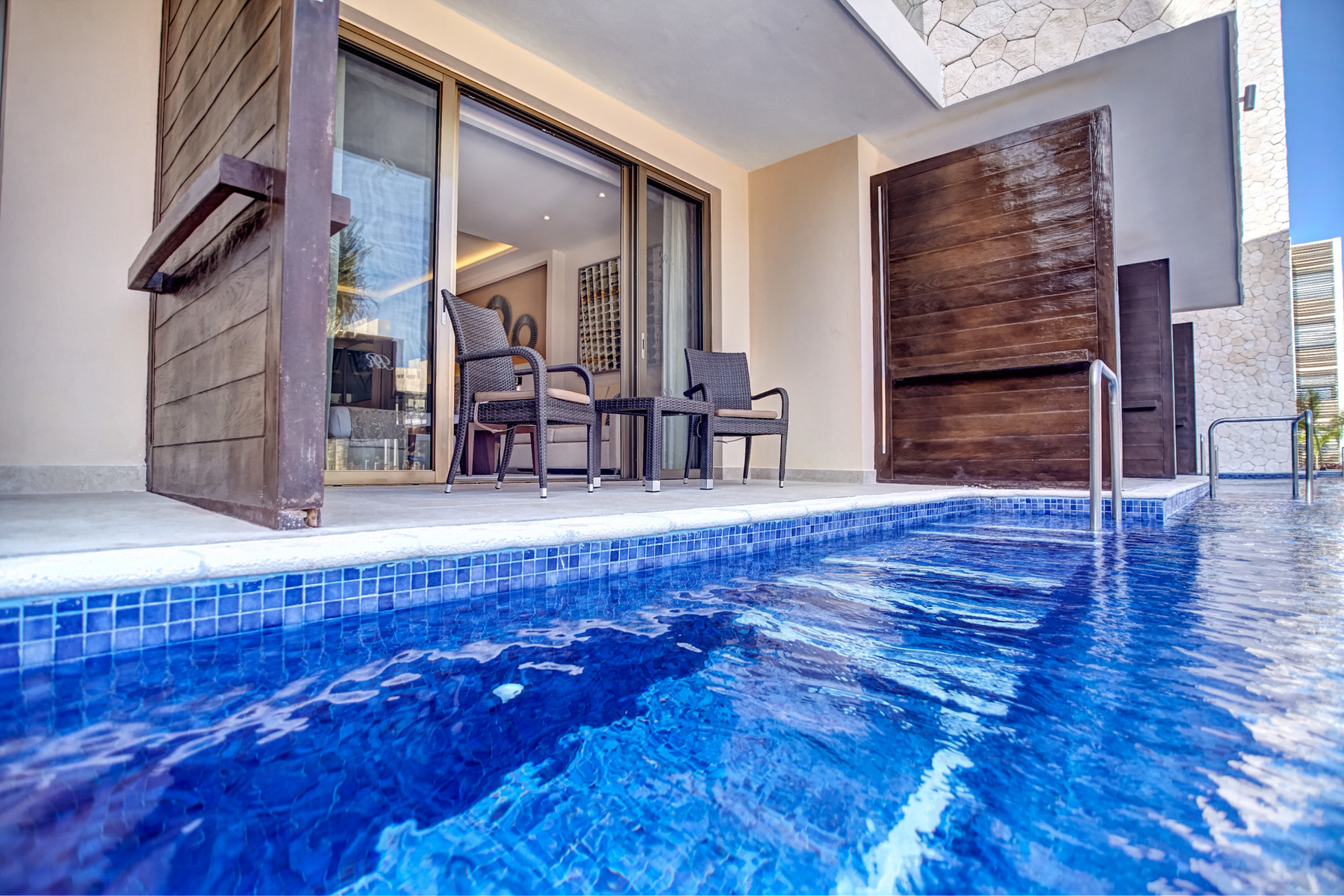 2/11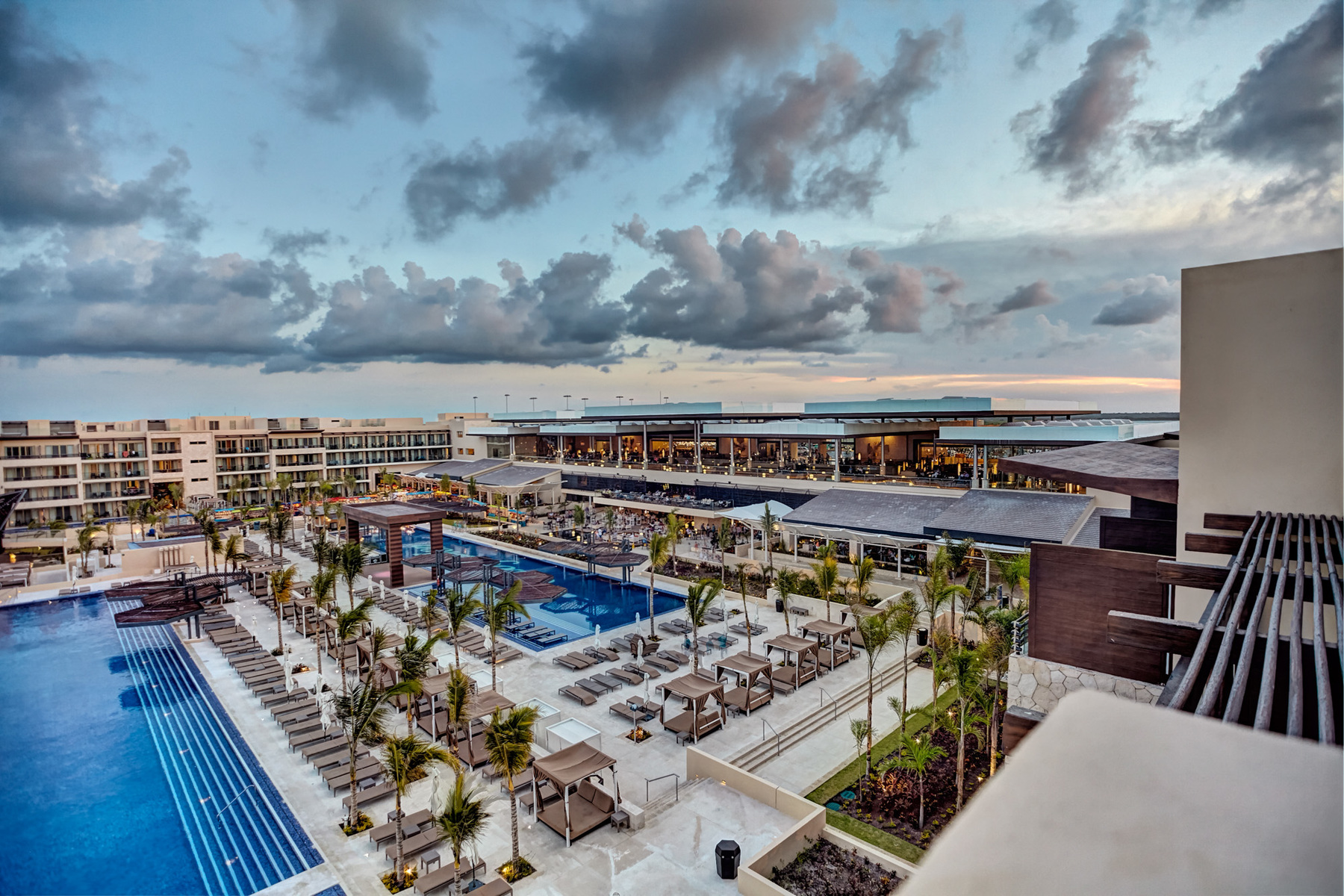 3/11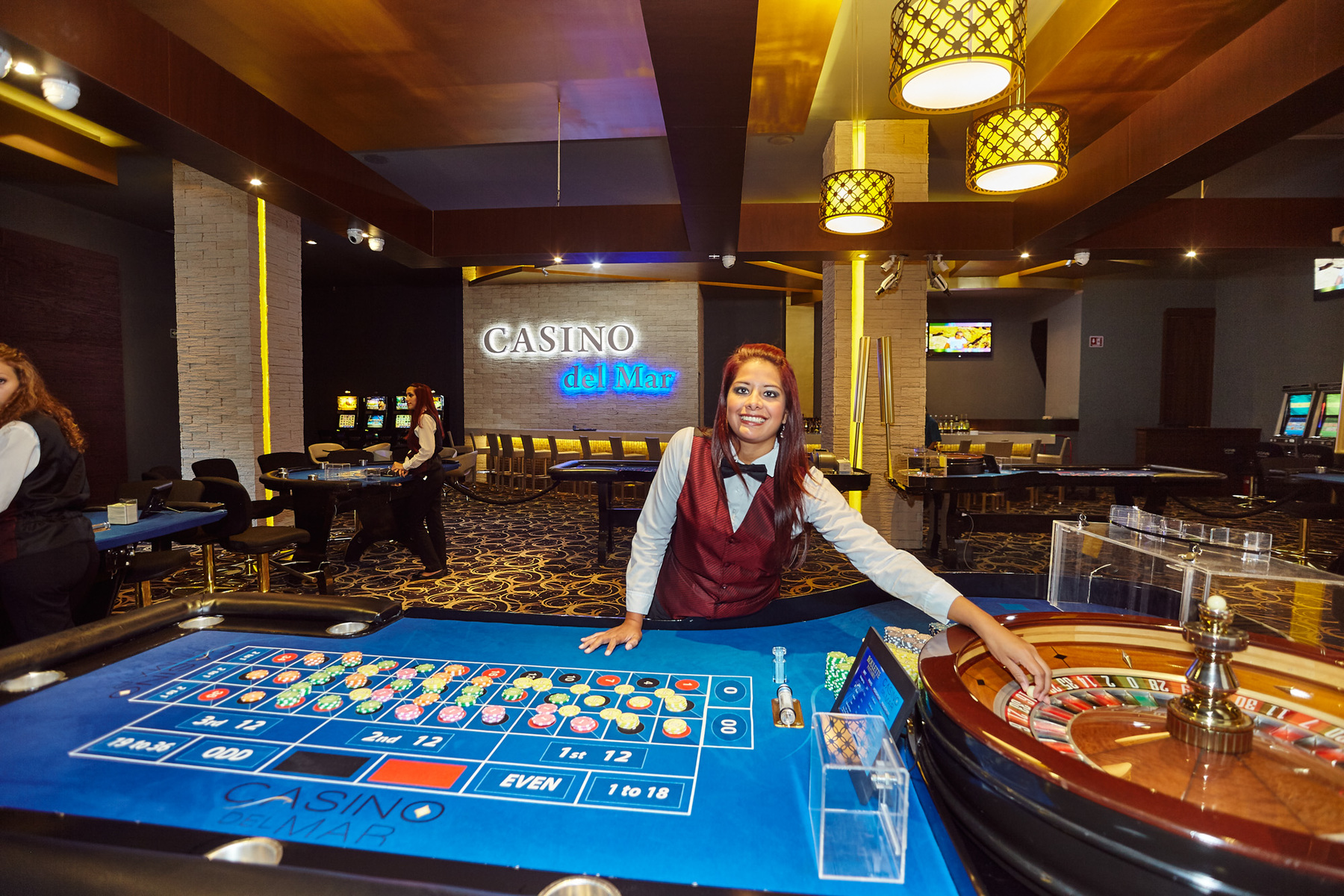 4/11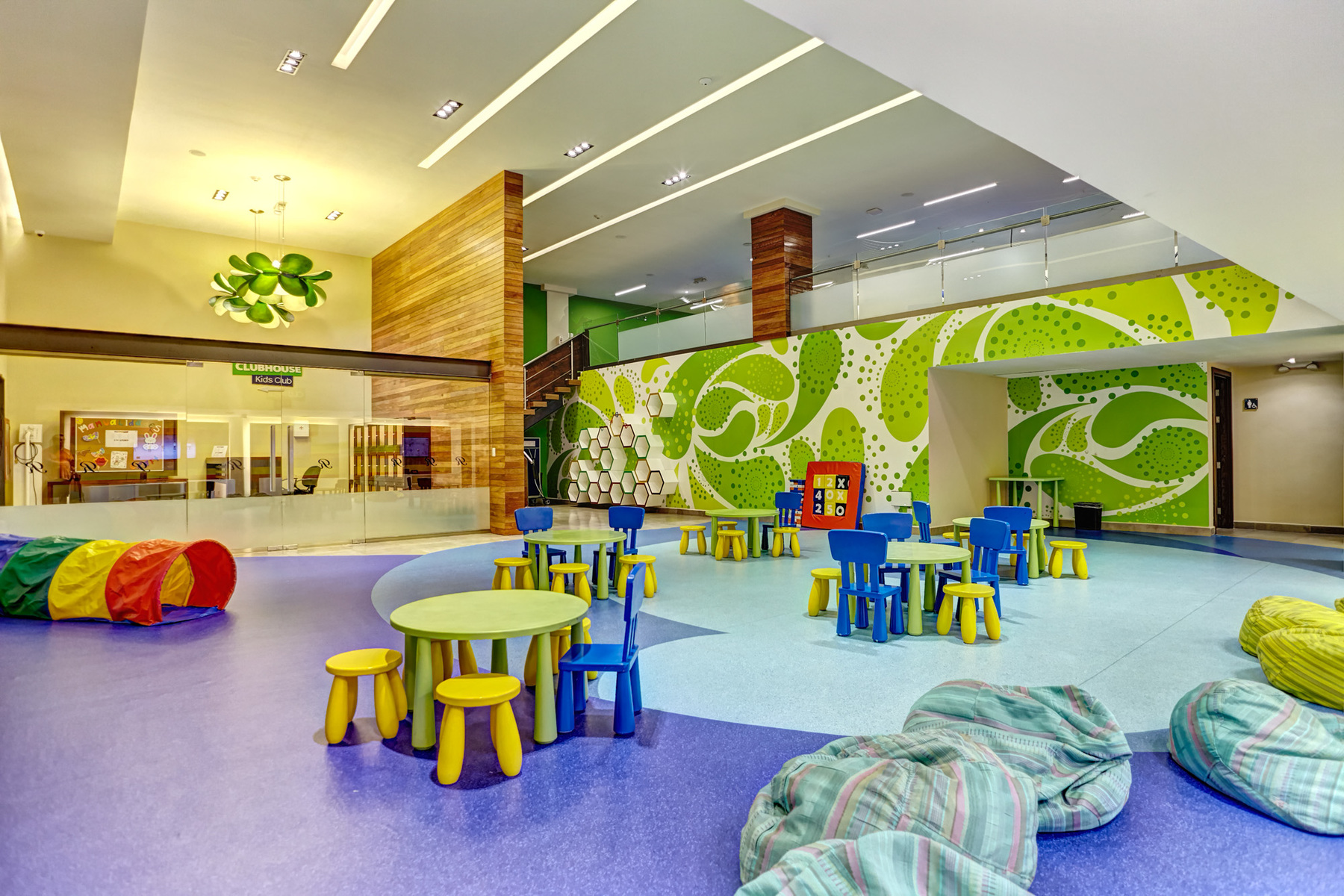 5/11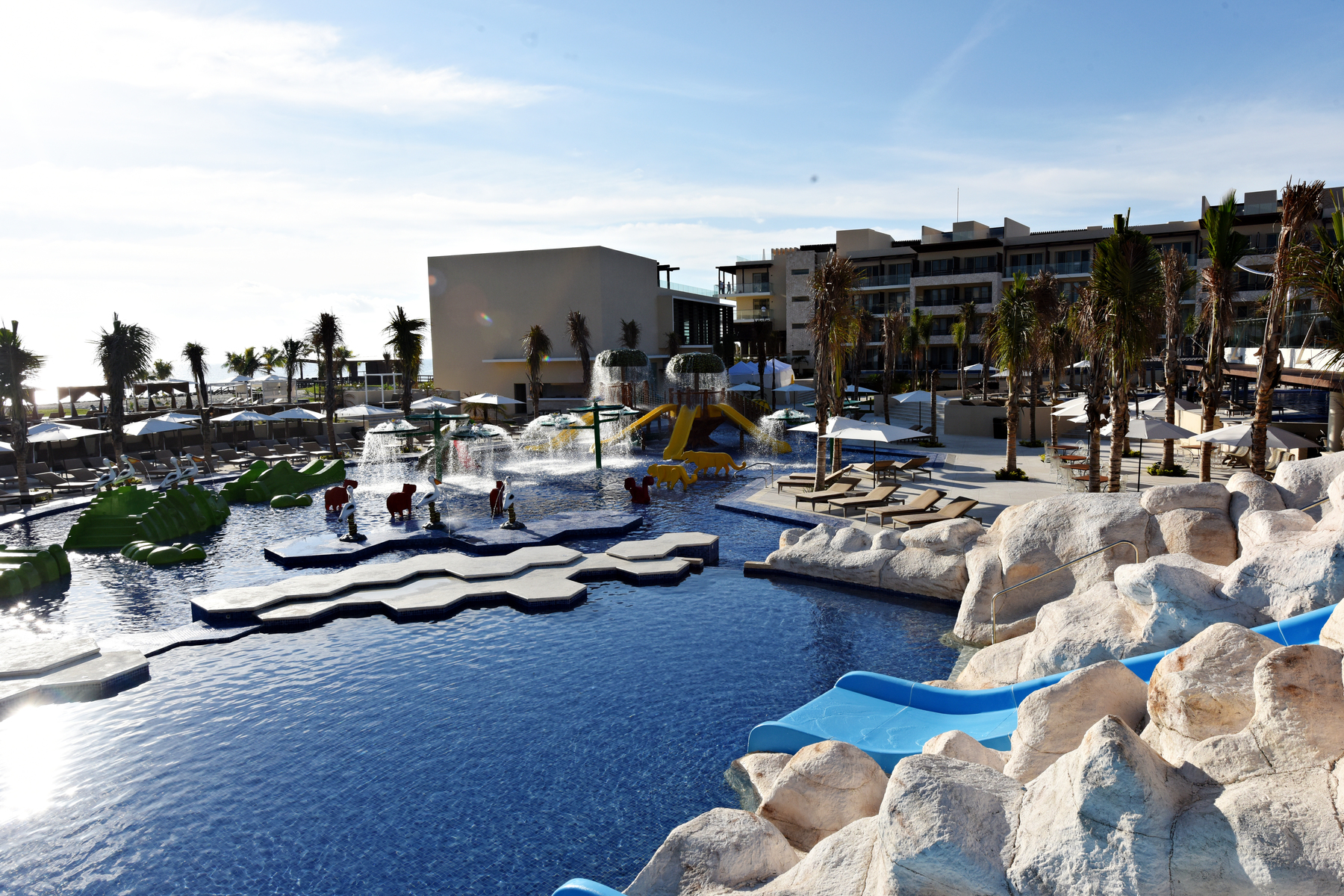 6/11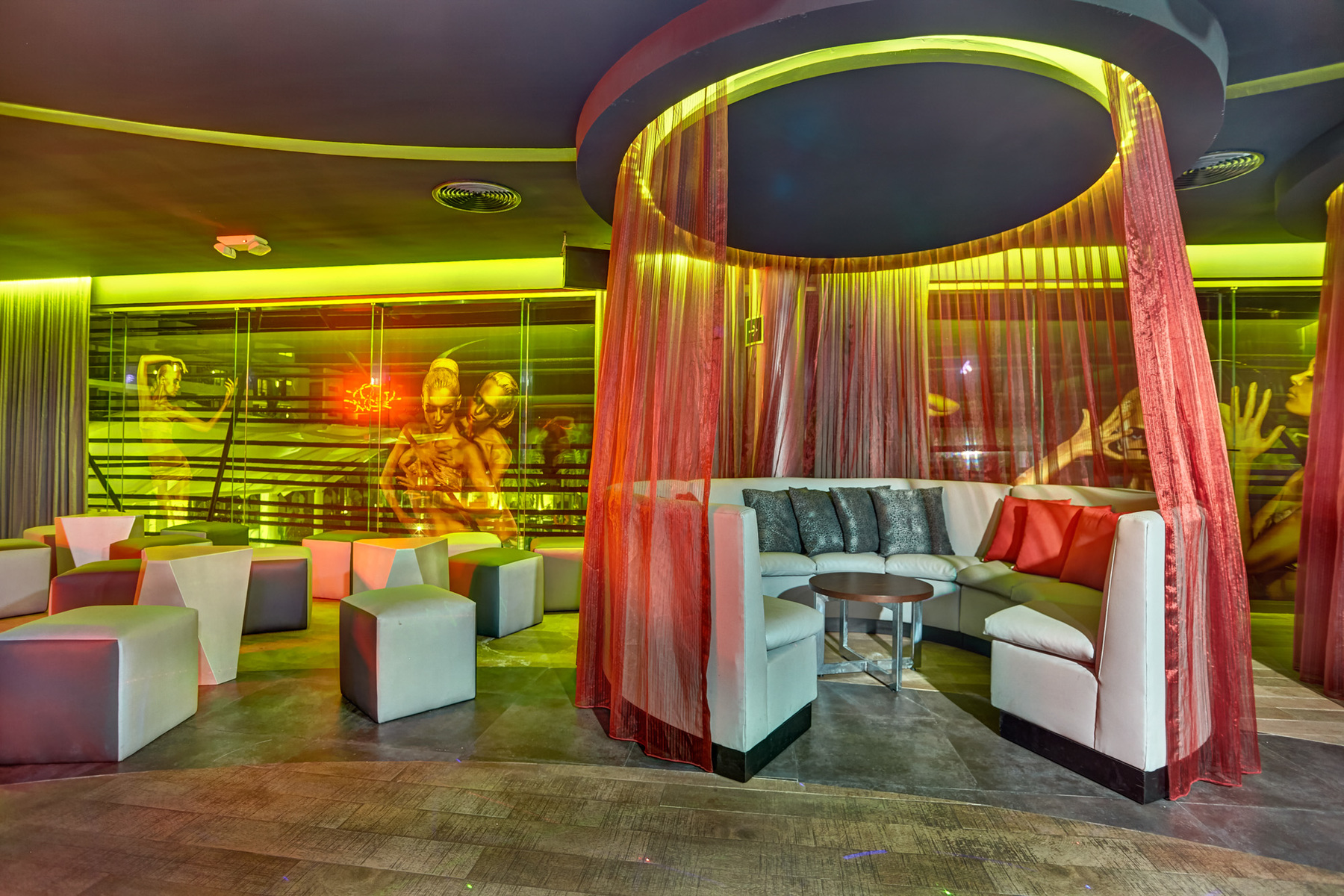 7/11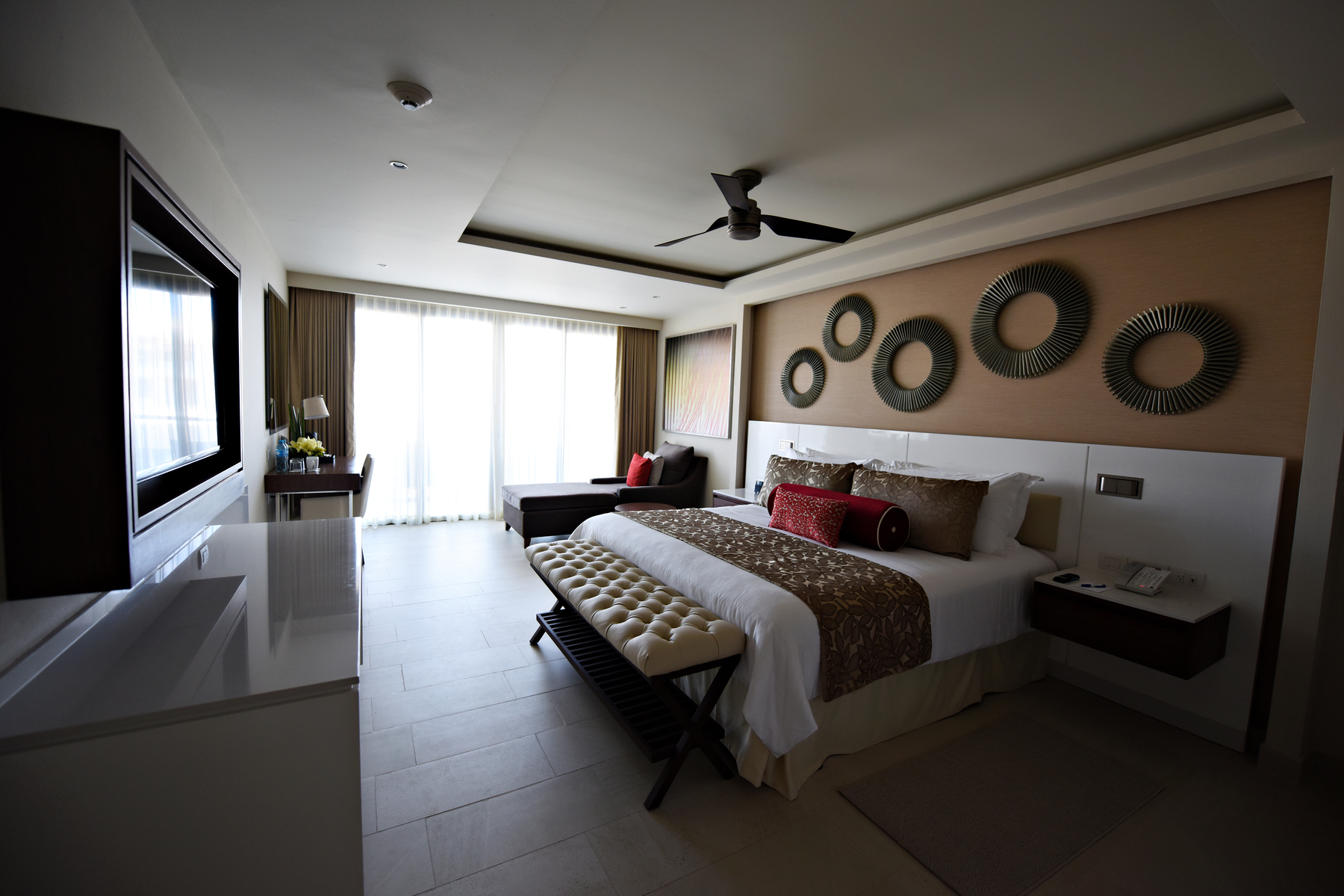 8/11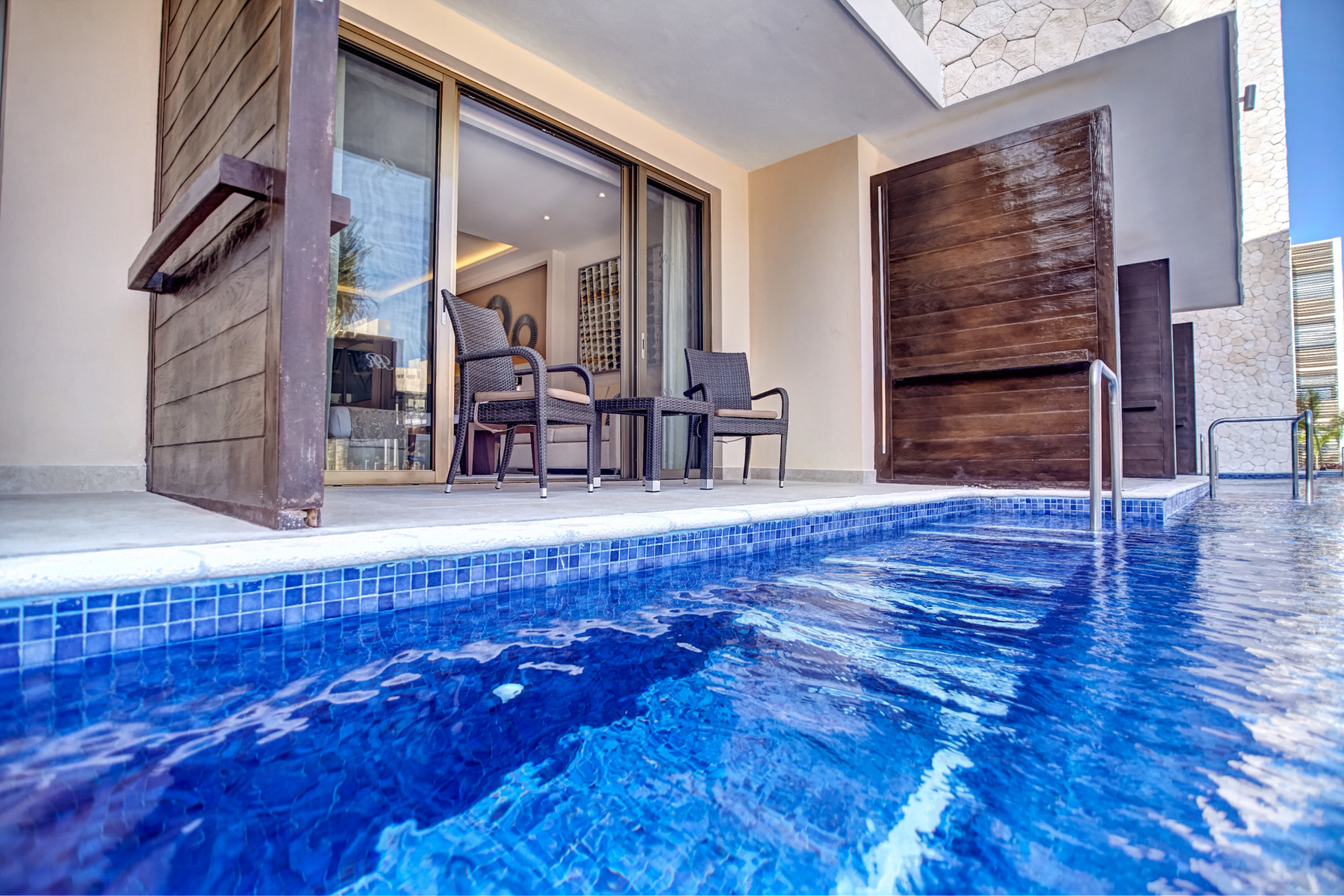 9/11
10/11
11/11
Destination Weddings
Play
Royalton Riviera Cancun Resort & Spa
About this hotel
Modern facilities, warm staff and exhilarating locale rich with culture and world-class cuisine are the backdrop for an unforgettable All-In Luxury® escape. Devoted to providing guests with a unique experience, combining the soul of the resorts community with a luxury product, exceptional service, and incredible attention to detail. At Royalton Riviera Cancun Resort & Spa every aspect of guests' stay has been carefully, yet artfully designed to deliver a personalized experience that awakens and enriches the senses. 

Why book this hotel?
Meal & beverage plan
All-inclusive plan
Breakfast, lunch, snacks and dinner daily
Domestic and international alcoholic and non-alcoholic beverage
Unlimited reservation-free dining at all a la carte restaurants
24-hour room service
Other inclusions :
24-hour concierge service
Exclusive weekly champagne party by the pool
Personalized check-in and check-out
Fresh cold towels
Clients booking a Diamond Club room will enjoy personalized attention and luxury service. The Diamond Club inclusions are subject to change but may include:
Preferred room location, Private pool for Diamond Club guests, Nightly turn-down service, Preferential reservations in a la carte restaurants, Exclusive beach area with dedicated bar and waiter service, Distinctive wrist bracelet, Personalized check-in and check-out at lounge, Complimentary early check-in and late check-out (subject to availability), Diamond Club Lounge private access, Selected premium drinks menu available in lounge (some restrictions apply), Daily continental breakfast service in lounge, Evening hors d'oeuvres and afternoon snacks including decadent desserts in lounge, Upgraded room service menu, Selection of pillows from The Royal Spa pillow menu, Upgraded robes and slippers in room, 25% discount on spa treatments (restrictions apply), Selection of in-suite liquors (one bottle per week), Hydrotherapy for 1 hour per day (based on availability), Upgraded mini-bar restocked daily (according to consumption), Virtual Butler service

All-In Connectivity"
Keep the conveniences of home while on vacation and stay connected during your vacation. Stay connected to friends and family back home with All-In Connectivity™. Post your vacation selfies, answer emails or binge your favorite series from anywhere at the resort.
Free Wi-Fi throughout the resort for all your devices
Convenient USB recharging and Bluetooth audio stations in the rooms
Innovative bracelet key cards gives you effortless suite access and a convenient means to handle on-resort purchases

Sport Event Guarantee"
Watch all the top games on flat screen televisions in the comfort of the Score Sports Bar and Lounge and enjoy premium refreshments and delicious pub fare.

DreamBed"
Every room is furnished with DreamBed™, a premium handcrafted mattress exclusive to Royalton Luxury Resorts.

Designed to provide superb comfort and support, the DreamBed™ includes the following luxurious features:
A patented Solo Split system to minimize motion transferring
30% more pocketed coils, all of which are double tempered for extra durability
Hypoallergenic mattress cover
Destination Weddings
Say "I do" to weddings set in our most beautiful beach destinations.
Featuring free or discounted wedding packages and the services of a wedding coordinator, the resorts below have all you need for a destination wedding.
To book travel for your wedding group, REQUEST A QUOTE or call us at 1 866 529-2079.
Number of travellers: To add more travellers to your booking, select your hotel below, and on the next page you can update the number of travellers by clicking on "Change search" on the top right.
Play
Discover the ultimate family-friendly vacation at Play resorts with perks perfect for kids!

Play program highlights include:
Kids Eat, Play and Stay FREE1at all-inclusive resorts
Pre-boarding for families
Supervised kids' clubs and more!2
Dedicated pool areas of sections for kids2
Number of travellers: To add more travellers to your booking, select your hotel below, and on the next page you can update the number of travellers by clicking on "Change search" on the top right.
Play program: Only valid on vacation package bookings at participating hotels and resorts. Not applicable to groups. Subject to availability. Program is subject to change without notice. 1Clients are responsible for paying the flight portion of children's vacations, including air transportation charges, taxes, fees, and charges. Conditions may apply and vary by resort. Based on maximum hotel room occupancy. Refer to the «Best for» section of each hotel on aircanadavacations.com for full details. 2Only available at all-inclusive resorts in Mexico, the Caribbean and Central America.
Luxury Chairmans Two Bedroom Suite Ocean Front Diamond Club
Bed size(s): 1 king bed and 2 queen beds, Sofa bed
Room(s): Private balcony, Bathroom with rain shower, In-room Jacuzzi, Separate living area, Dining table, Pool table, Large terrace with outdoor Jacuzzi, Beach lounge chairs, Outdoor dining table
Air-conditioning: Yes
Internet: WiFi
Room facilities
250 thread count sheets, 24-hour concierge service, USB recharge and Bluetooth audio stations, In-room safe, Satellite television, Stocked mini-bar, 24-hour room service, Iron and board, Coffee and tea maker, Hairdryer

Clients booking a Diamond Club room will enjoy personalized attention and luxury service. The Diamond Club inclusions are subject to change but may include: Preferred room location, Private pool for Diamond Club guests, Nightly turn-down service, Preferential reservations in a la carte restaurants, Exclusive beach area with dedicated bar and waiter service, Distinctive wrist bracelet, Personalized check-in and check-out at lounge, Complimentary early check-in and late check-out (subject to availability), Diamond Club Lounge private access, Selected premium drinks menu available in lounge (some restrictions apply), Daily continental breakfast service in lounge, Evening hors d'oeuvres and afternoon snacks including decadent desserts in lounge, Upgraded room service menu, Selection of pillows from The Royal Spa pillow menu, Upgraded robes and slippers in room, 25% discount on spa treatments (restrictions apply), Selection of in-suite liquors (one bottle per week), Hydrotherapy for 1 hour per day (based on availability), Upgraded mini-bar restocked daily (according to consumption), Virtual Butler service
Occupancy: 1-6 adults; 6 adults and 2 children; 5 adults and 3 children; 4 adults and 4 children (maximum occupancy of 8)
Luxury Chairmans Three Bedroom Suite Ocean Front Diamond Club
Bed size(s): 1 king bed and 2 queen beds, Sofa bed
Room(s): Private balcony, Bathroom with rain shower, In-room Jacuzzi, Separate living area, Dining table, Pool table, Large terrace with outdoor Jacuzzi, Beach lounge chairs, Outdoor dining table
Air-conditioning: Yes
Internet: WiFi
Room facilities
250 thread count sheets, 24-hour concierge service, USB recharge and Bluetooth audio stations, In-room safe, Satellite television, Stocked mini-bar, 24-hour room service, Iron and board, Coffee and tea maker, Hairdryer

Clients booking a Diamond Club room will enjoy personalized attention and luxury service. The Diamond Club inclusions are subject to change but may include: Preferred room location, Private pool for Diamond Club guests, Nightly turn-down service, Preferential reservations in a la carte restaurants, Exclusive beach area with dedicated bar and waiter service, Distinctive wrist bracelet, Personalized check-in and check-out at lounge, Complimentary early check-in and late check-out (subject to availability), Diamond Club Lounge private access, Selected premium drinks menu available in lounge (some restrictions apply), Daily continental breakfast service in lounge, Evening hors d'oeuvres and afternoon snacks including decadent desserts in lounge, Upgraded room service menu, Selection of pillows from The Royal Spa pillow menu, Upgraded robes and slippers in room, 25% discount on spa treatments (restrictions apply), Selection of in-suite liquors (one bottle per week), Hydrotherapy for 1 hour per day (based on availability), Upgraded mini-bar restocked daily (according to consumption), Virtual Butler service
Occupancy: 1-10 adults; 10 adults and 2 children; 9 adults and 3 children; 8 adults and 4 children; 7 adults and 5 children; 6 adults and 6 children (maximum occupancy of 12)
Luxury Family Suite Ocean View Diamond Club
Bed size(s): 1 king bed, Double sofa bed
Rooms: Ocean view, Balcony or terrace, Bathroom with rain shower, In-room Jacuzzi
Air-conditioning: Yes
Internet: WiFi
Room facilities
250 thread count sheets, 24-hour concierge service, USB recharge and Bluetooth audio stations, In-room safe, Satellite television, Stocked mini-bar, 24-hour room service, Iron and board, Coffee and tea maker, Hairdryer

Clients booking a Diamond Club room will enjoy personalized attention and luxury service. The Diamond Club inclusions are subject to change but may include: Preferred room location, Private pool for Diamond Club guests, Nightly turn-down service, Preferential reservations in a la carte restaurants, Exclusive beach area with dedicated bar and waiter service, Distinctive wrist bracelet, Personalized check-in and check-out at lounge, Complimentary early check-in and late check-out (subject to availability), Diamond Club Lounge private access, Selected premium drinks menu available in lounge (some restrictions apply), Daily continental breakfast service in lounge, Evening hors d'oeuvres and afternoon snacks including decadent desserts in lounge, Upgraded room service menu, Selection of pillows from The Royal Spa pillow menu, Upgraded robes and slippers in room, 25% discount on spa treatments (restrictions apply), Selection of in-suite liquors (one bottle per week), Hydrotherapy for 1 hour per day (based on availability), Upgraded mini-bar restocked daily (according to consumption), Virtual Butler service
Occupancy: 1-3 adults; 3 adults and 1 child, 2 adults and 2 children (maximum occupancy of 4)
Luxury Presidential One Bedroom Suite Swim Out
Bed size(s): 1 king bed, Sofa bed
Room(s): Swim out pool, Terrace, Bathroom with rain shower, In-room Jacuzzi, Separate living area
Air-conditioning: Yes
Internet: WiFi

Room facilities
250 thread count sheets, 24-hour concierge service, USB recharge and Bluetooth audio stations, In-room safe, Satellite television, Stocked mini-bar, 24-hour room service, Iron and board, Coffee and tea maker, Hairdryer

Occupancy: 1-3 adults; 3 adults and 1 child, 2 adults and 2 children (maximum occupancy of 4)

Luxury Presidential Two Bedroom Suite Swim Out
Bed size(s): 1 king bed and 2 queen beds, Sofa bed
Room(s): Swim out pool, Terrace, Bathroom with rain shower, In-room Jacuzzi, Separate living area
Air-conditioning: Yes
Internet: WiFi
Room facilities
250 thread count sheets, 24-hour concierge service, USB recharge and Bluetooth audio stations, In-room safe, Satellite television, Stocked mini-bar, 24-hour room service, Iron and board, Coffee and tea maker, Hairdryer

Occupancy: 1-6 adults; 6 adults and 2 children; 5 adults and 3 children; 4 adults and 4 children (maximum occupancy of 8)
Luxury Family Suite Ocean View
Bed size(s): 1 king bed, Double sofa bed
Rooms: Ocean view, Terrace or balcony, Bathroom with rain shower, In-room Jacuzzi
Air-conditioning: Yes
Internet: WiFi

Room facilities
250 thread count sheets, 24-hour concierge service, USB recharge and Bluetooth audio stations, In-room safe, Satellite television, Stocked mini-bar, 24-hour room service, Iron and board, Coffee and tea maker, Hairdryer

Occupancy: 1-3 adults; 3 adults and 1 child, 2 adults and 2 children (maximum occupancy of 4)

Luxury Junior Suite Ocean View
Bed size(s): 1 king bed or 2 queen beds, Double sofa bed
Rooms: Ocean view, Balcony, Bathroom with rain shower, In-room Jacuzzi
Air-conditioning: Yes
Internet: WiFi

Room facilities
250 thread count sheets, 24-hour concierge service, USB recharge and Bluetooth audio stations, In-room safe, Satellite television, Stocked mini-bar, 24-hour room service, Iron and board, Coffee and tea maker, Hairdryer

Occupancy: 1-4 adults; 4 adults and 1 child, 3 adults and 2 children, 2 adults and 3 children (maximum occupancy of 5)
Luxury Junior Suite Ocean View Diamond Club
Bed size(s): 1 king bed or 2 queen beds, Double sofa bed
Rooms: Ocean view, Balcony, Bathroom with rain shower, In-room Jacuzzi
Air-conditioning: Yes
Internet: WiFi

Room facilities
250 thread count sheets, 24-hour concierge service, USB recharge and Bluetooth audio stations, In-room safe, Satellite television, Stocked mini-bar, 24-hour room service, Iron and board, Coffee and tea maker, Hairdryer

Clients booking a Diamond Club room will enjoy personalized attention and luxury service. The Diamond Club inclusions are subject to change but may include: Preferred room location, Private pool for Diamond Club guests, Nightly turn-down service, Preferential reservations in a la carte restaurants, Exclusive beach area with dedicated bar and waiter service, Distinctive wrist bracelet, Personalized check-in and check-out at lounge, Complimentary early check-in and late check-out (subject to availability), Diamond Club Lounge private access, Selected premium drinks menu available in lounge (some restrictions apply), Daily continental breakfast service in lounge, Evening hors d'oeuvres and afternoon snacks including decadent desserts in lounge, Upgraded room service menu, Selection of pillows from The Royal Spa pillow menu, Upgraded robes and slippers in room, 25% discount on spa treatments (restrictions apply), Selection of in-suite liquors (one bottle per week), Hydrotherapy for 1 hour per day (based on availability), Upgraded mini-bar restocked daily (according to consumption), Virtual Butler service
Occupancy: 1-4 adults; 4 adults and 1 child, 3 adults and 2 children, 2 adults and 3 children (maximum occupancy of 5)
Bed size(s): 1 king bed or 2 queen beds, Double sofa bed
Rooms: Mangrove view, Balcony, Bathroom with rain shower, In-room Jacuzzi
Air-conditioning: Yes
Internet: WiFi

Room facilities
250 thread count sheets, 24-hour concierge service, USB recharge and Bluetooth audio stations, In-room safe, Satellite television, Stocked mini-bar, 24-hour room service, Iron and board, Coffee and tea maker, Hairdryer

Occupancy:1-4 adults; 4 adults and 1 child, 3 adults and 2 children, 2 adults and 3 children (maximum occupancy of 5)
Luxury Junior Suite Swim Out Diamond Club
Bed size(s): 1 king bed or 2 queen beds, Double sofa bed
Rooms: Swim out pool, Terrace, Bathroom with rain shower, In-room Jacuzzi
Air-conditioning: Yes
Internet: WiFi

Room facilities
250 thread count sheets, 24-hour concierge service, USB recharge and Bluetooth audio stations, In-room safe, Satellite television, Stocked mini-bar, 24-hour room service, Iron and board, Coffee and tea maker, Hairdryer

Clients booking a Diamond Club room will enjoy personalized attention and luxury service. The Diamond Club inclusions are subject to change but may include: Preferred room location, Private pool for Diamond Club guests, Nightly turn-down service, Preferential reservations in a la carte restaurants, Exclusive beach area with dedicated bar and waiter service, Distinctive wrist bracelet, Personalized check-in and check-out at lounge, Complimentary early check-in and late check-out (subject to availability), Diamond Club Lounge private access, Selected premium drinks menu available in lounge (some restrictions apply), Daily continental breakfast service in lounge, Evening hors d'oeuvres and afternoon snacks including decadent desserts in lounge, Upgraded room service menu, Selection of pillows from The Royal Spa pillow menu, Upgraded robes and slippers in room, 25% discount on spa treatments (restrictions apply), Selection of in-suite liquors (one bottle per week), Hydrotherapy for 1 hour per day (based on availability), Upgraded mini-bar restocked daily (according to consumption), Virtual Butler service

Occupancy: 1-4 adults; 4 adults and 1 child, 3 adults and 2 children, 2 adults and 3 children (maximum occupancy of 5)
Luxury Junior Suite Swim Out
Bed size(s): 1 king bed or 2 queen beds, Double sofa bed
Rooms: Swim out pool, Terrace, Bathroom with rain shower, In-room Jacuzzi
Air-conditioning: Yes
Internet: WiFi

Room facilities
250 thread count sheets, 24-hour concierge service, USB recharge and Bluetooth audio stations, In-room safe, Satellite television, Stocked mini-bar, 24-hour room service, Iron and board, Coffee and tea maker, Hairdryer

Occupancy: 1-4 adults; 4 adults and 1 child, 3 adults and 2 children, 2 adults and 3 children (maximum occupancy of 5)
Luxury Suite Ocean View with Terrace Jacuzzi Diamond Club
Bed size(s): 1 king bed or 2 queen beds, Double sofa bed
Rooms: Ocean view, Balcony with Jacuzzi, In-room Jacuzzi, Bathroom with rain shower
Air-conditioning: Yes
Internet: WiFi

Room facilities
250 thread count sheets, 24-hour concierge service, USB recharge and Bluetooth audio stations, In-room safe, Satellite television, Stocked mini-bar, 24-hour room service, Iron and board, Coffee and tea maker, Hairdryer

Clients booking a Diamond Club room will enjoy personalized attention and luxury service. The Diamond Club inclusions are subject to change but may include: Preferred room location, Private pool for Diamond Club guests, Nightly turn-down service, Preferential reservations in a la carte restaurants, Exclusive beach area with dedicated bar and waiter service, Distinctive wrist bracelet, Personalized check-in and check-out at lounge, Complimentary early check-in and late check-out (subject to availability), Diamond Club Lounge private access, Selected premium drinks menu available in lounge (some restrictions apply), Daily continental breakfast service in lounge, Evening hors d'oeuvres and afternoon snacks including decadent desserts in lounge, Upgraded room service menu, Selection of pillows from The Royal Spa pillow menu, Upgraded robes and slippers in room, 25% discount on spa treatments (restrictions apply), Selection of in-suite liquors (one bottle per week), Hydrotherapy for 1 hour per day (based on availability), Upgraded mini-bar restocked daily (according to consumption), Virtual Butler service
Occupancy: 1-4 adults; 4 adults and 1 child, 3 adults and 2 children, 2 adults and 3 children (maximum occupancy of 5)
Luxury Presidential One Bedroom Suite Ocean View
Bed size(s): 1 king bed, Sofa bed
Room(s): Ocean view, Terrace, Bathroom with rain shower, In-room Jacuzzi, Separate living area
Air-conditioning: Yes
WiFi: Yes
Room facilities
250 thread count sheets, 24-hour concierge service, USB recharge and Bluetooth audio stations, In-room safe, Satellite television, Stocked mini-bar, 24-hour room service, Iron and board, Coffee and tea maker, Hairdryer

Occupancy: 1-3 adults; 3 adults and 1 child, 2 adults and 2 children (maximum occupancy of 4)
Luxury Presidential Two Bedroom Suite Ocean View
Bed size(s): 1 king bed and 2 queen beds, Sofa bed
Rooms: Ocean view, Terrace, Bathroom with rain shower, In-room Jacuzzi, Separate living area
Air-conditioning: Yes
Internet: WiFi
Room facilities
250 thread count sheets, 24-hour concierge service, USB recharge and Bluetooth audio stations, In-room safe, Satellite television, Stocked mini-bar, 24-hour room service, Iron and board, Coffee and tea maker, Hairdryer
Occupancy: 1-6 adults; 6 adults and 2 children; 5 adults and 3 children; 4 adults and 4 children (maximum occupancy of 8)
Luxury Presidential One Bedroom Suite Ocean View Rooftop Oversized Jacuzzi
Bed size(s): 1 king bed, Sofa bed
Rooms: Ocean view, Balcony with Jacuzzi, Bathroom with rain shower, In-room Jacuzzi, Separate living area
Air-conditioning: Yes
Internet: WiFi

Room facilities
250 thread count sheets, 24-hour concierge service, USB recharge and Bluetooth audio stations, In-room safe, Satellite television, Stocked mini-bar, 24-hour room service, Iron and board, Coffee and tea maker, Hairdryer
Occupancy: 1-3 adults; 3 adults and 1 child, 2 adults and 2 children (maximum occupancy of 4)
Luxury Suite Ocean View with Terrace Jacuzzi
Bed size(s): 1 king bed or 2 queen beds, Double sofa bed
Rooms: Ocean view, Terrace with Jacuzzi, Bathroom with rain shower, In-room Jacuzzi
Air-conditioning: Yes
Internet: WiFi

Room facilities
250 thread count sheets, 24-hour concierge service, USB recharge and Bluetooth audio stations, In-room safe, Satellite television, Stocked mini-bar, 24-hour room service, Iron and board, Coffee and tea maker, Hairdryer

Occupancy: 1-4 adults; 4 adults and 1 child, 3 adults and 2 children, 2 adults and 3 children (maximum occupancy of 5)
Luxury Suite with Terrace Jacuzzi
Bed size(s): 1 king bed or 2 queen beds, Double sofa bed
Rooms: Sunset and mangrove views, Terrace with Jacuzzi, Bathroom with rain shower, In-room Jacuzzi
Air-conditioning: Yes
Internet: WiFi

Room facilities
250 thread count sheets, 24-hour concierge service, USB recharge and Bluetooth audio stations, In-room safe, Satellite television, Stocked mini-bar, 24-hour room service, Iron and board, Coffee and tea maker, Hairdryer

Occupancy: Occupancy: 1-4 adults; 4 adults and 1 child, 3 adults and 2 children, 2 adults and 3 children (maximum occupancy of 5)
Luxury Presidential One Bedroom Suite Swim Out Diamond Club
Bed size(s): 1 king bed, Sofa bed
Room(s): Swim out pool, Terrace, Bathroom with rain shower, In-room Jacuzzi, Separate living area
Air-conditioning: Yes
Internet: WiFi
Room facilities
250 thread count sheets, 24-hour concierge service, USB recharge and Bluetooth audio stations, In-room safe, Satellite television, Stocked mini-bar, 24-hour room service, Iron and board, Coffee and tea maker, Hairdryer

Clients booking a Diamond Club room will enjoy personalized attention and luxury service. The Diamond Club inclusions are subject to change but may include: Preferred room location, Private pool for Diamond Club guests, Nightly turn-down service, Preferential reservations in a la carte restaurants, Exclusive beach area with dedicated bar and waiter service, Distinctive wrist bracelet, Personalized check-in and check-out at lounge, Complimentary early check-in and late check-out (subject to availability), Diamond Club Lounge private access, Selected premium drinks menu available in lounge (some restrictions apply), Daily continental breakfast service in lounge, Evening hors d'oeuvres and afternoon snacks including decadent desserts in lounge, Upgraded room service menu, Selection of pillows from The Royal Spa pillow menu, Upgraded robes and slippers in room, 25% discount on spa treatments (restrictions apply), Selection of in-suite liquors (one bottle per week), Hydrotherapy for 1 hour per day (based on availability), Upgraded mini-bar restocked daily (according to consumption), Virtual Butler service

Occupancy: 1-3 adults; 3 adults and 1 child, 2 adults and 2 children (maximum occupancy of 4)
Luxury Presidential Two Bedroom Suite Swim Out Diamond Club
Bed size(s): 1 king bed and 2 queen beds, Sofa bed
Room(s): Swim out pool, Terrace, Bathroom with rain shower, In-room Jacuzzi, Separate living area
Air-conditioning: Yes
Internet: WiFi
Room facilities
250 thread count sheets, 24-hour concierge service, USB recharge and Bluetooth audio stations, In-room safe, Satellite television, Stocked mini-bar, 24-hour room service, Iron and board, Coffee and tea maker, Hairdryer

Clients booking a Diamond Club room will enjoy personalized attention and luxury service. The Diamond Club inclusions are subject to change but may include: Preferred room location, Private pool for Diamond Club guests, Nightly turn-down service, Preferential reservations in a la carte restaurants, Exclusive beach area with dedicated bar and waiter service, Distinctive wrist bracelet, Personalized check-in and check-out at lounge, Complimentary early check-in and late check-out (subject to availability), Diamond Club Lounge private access, Selected premium drinks menu available in lounge (some restrictions apply), Daily continental breakfast service in lounge, Evening hors d'oeuvres and afternoon snacks including decadent desserts in lounge, Upgraded room service menu, Selection of pillows from The Royal Spa pillow menu, Upgraded robes and slippers in room, 25% discount on spa treatments (restrictions apply), Selection of in-suite liquors (one bottle per week), Hydrotherapy for 1 hour per day (based on availability), Upgraded mini-bar restocked daily (according to consumption), Virtual Butler service

Occupancy: 1-6 adults; 6 adults and 2 children; 5 adults and 3 children; 4 adults and 4 children (maximum occupancy of 8)
Luxury Presidential One Bedroom Suite Ocean View Diamond Club
Bed size(s): 1 king bed, Sofa bed
Room(s): Ocean view, Terrace, Bathroom with rain shower, In-room Jacuzzi, Separate living area
Air-conditioning: Yes
WiFi: Yes
Room facilities
250 thread count sheets, 24-hour concierge service, USB recharge and Bluetooth audio stations, In-room safe, Satellite television, Stocked mini-bar, 24-hour room service, Iron and board, Coffee and tea maker, Hairdryer

Clients booking a Diamond Club room will enjoy personalized attention and luxury service. The Diamond Club inclusions are subject to change but may include: Preferred room location, Private pool for Diamond Club guests, Nightly turn-down service, Preferential reservations in a la carte restaurants, Exclusive beach area with dedicated bar and waiter service, Distinctive wrist bracelet, Personalized check-in and check-out at lounge, Complimentary early check-in and late check-out (subject to availability), Diamond Club Lounge private access, Selected premium drinks menu available in lounge (some restrictions apply), Daily continental breakfast service in lounge, Evening hors d'oeuvres and afternoon snacks including decadent desserts in lounge, Upgraded room service menu, Selection of pillows from The Royal Spa pillow menu, Upgraded robes and slippers in room, 25% discount on spa treatments (restrictions apply), Selection of in-suite liquors (one bottle per week), Hydrotherapy for 1 hour per day (based on availability), Upgraded mini-bar restocked daily (according to consumption), Virtual Butler service
Occupancy: 1-3 adults; 3 adults and 1 child, 2 adults and 2 children (maximum occupancy of 4)
Luxury Presidential Two Bedroom Suite Ocean View Diamond Club
Bed size(s): 1 king bed and 2 queen beds, Sofa bed
Rooms: Ocean view, Terrace, Bathroom with rain shower, In-room Jacuzzi, Separate living area
Air-conditioning: Yes
Internet: WiFi
Room facilities
250 thread count sheets, 24-hour concierge service, USB recharge and Bluetooth audio stations, In-room safe, Satellite television, Stocked mini-bar, 24-hour room service, Iron and board, Coffee and tea maker, Hairdryer

Clients booking a Diamond Club room will enjoy personalized attention and luxury service. The Diamond Club inclusions are subject to change but may include: Preferred room location, Private pool for Diamond Club guests, Nightly turn-down service, Preferential reservations in a la carte restaurants, Exclusive beach area with dedicated bar and waiter service, Distinctive wrist bracelet, Personalized check-in and check-out at lounge, Complimentary early check-in and late check-out (subject to availability), Diamond Club Lounge private access, Selected premium drinks menu available in lounge (some restrictions apply), Daily continental breakfast service in lounge, Evening hors d'oeuvres and afternoon snacks including decadent desserts in lounge, Upgraded room service menu, Selection of pillows from The Royal Spa pillow menu, Upgraded robes and slippers in room, 25% discount on spa treatments (restrictions apply), Selection of in-suite liquors (one bottle per week), Hydrotherapy for 1 hour per day (based on availability), Upgraded mini-bar restocked daily (according to consumption), Virtual Butler service
Occupancy: 1-6 adults; 6 adults and 2 children; 5 adults and 3 children; 4 adults and 4 children (maximum occupancy of 8)
Location
Carretera General 307, KM 332 Carretera Cancun-Tulum, Puerto Morelos Riviera Maya, 77500, MX
Royalton Riviera Cancun Resort & Spa