Visit our COVID-19 Hub for information on entry requirements, where we fly, safety, refunds and more.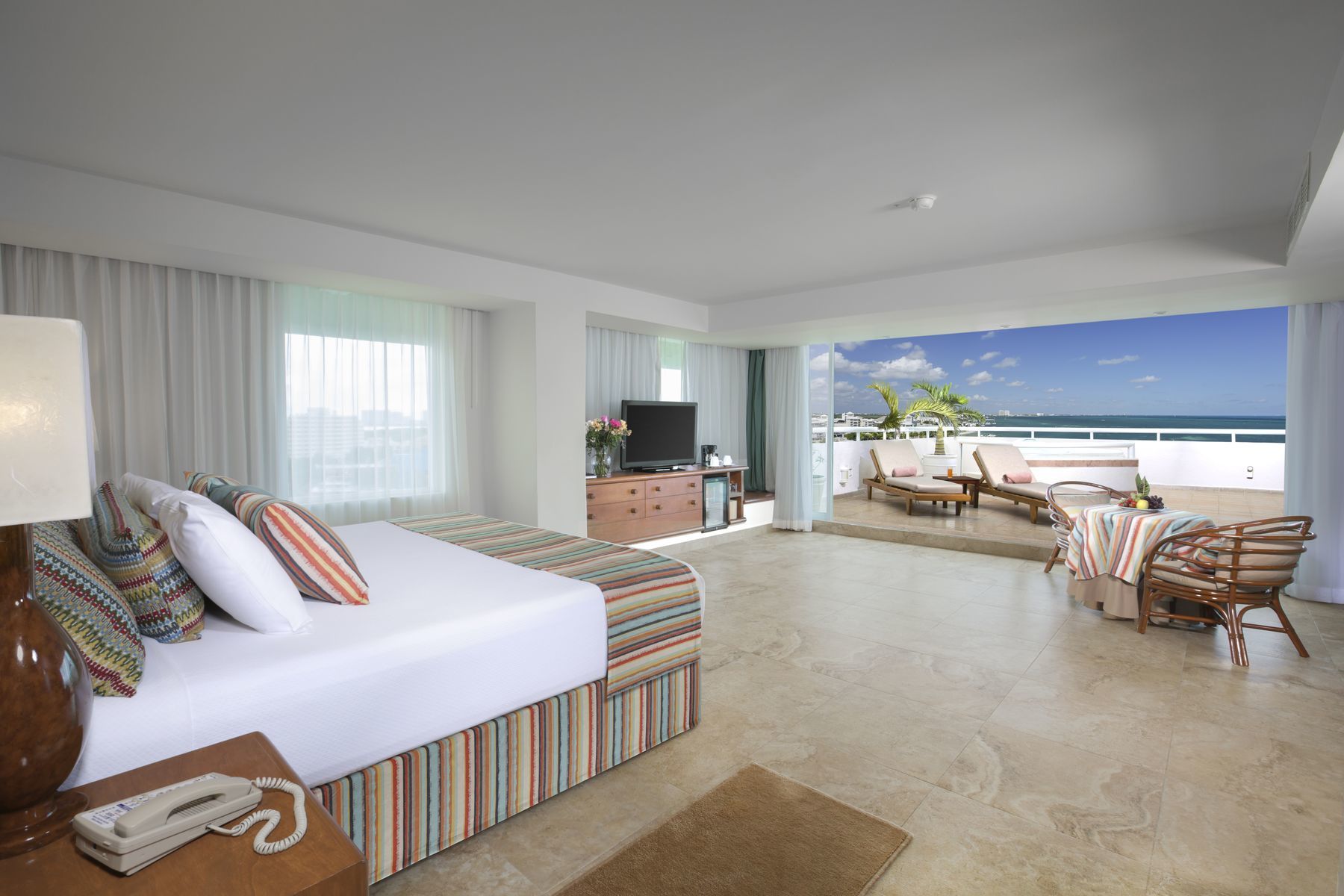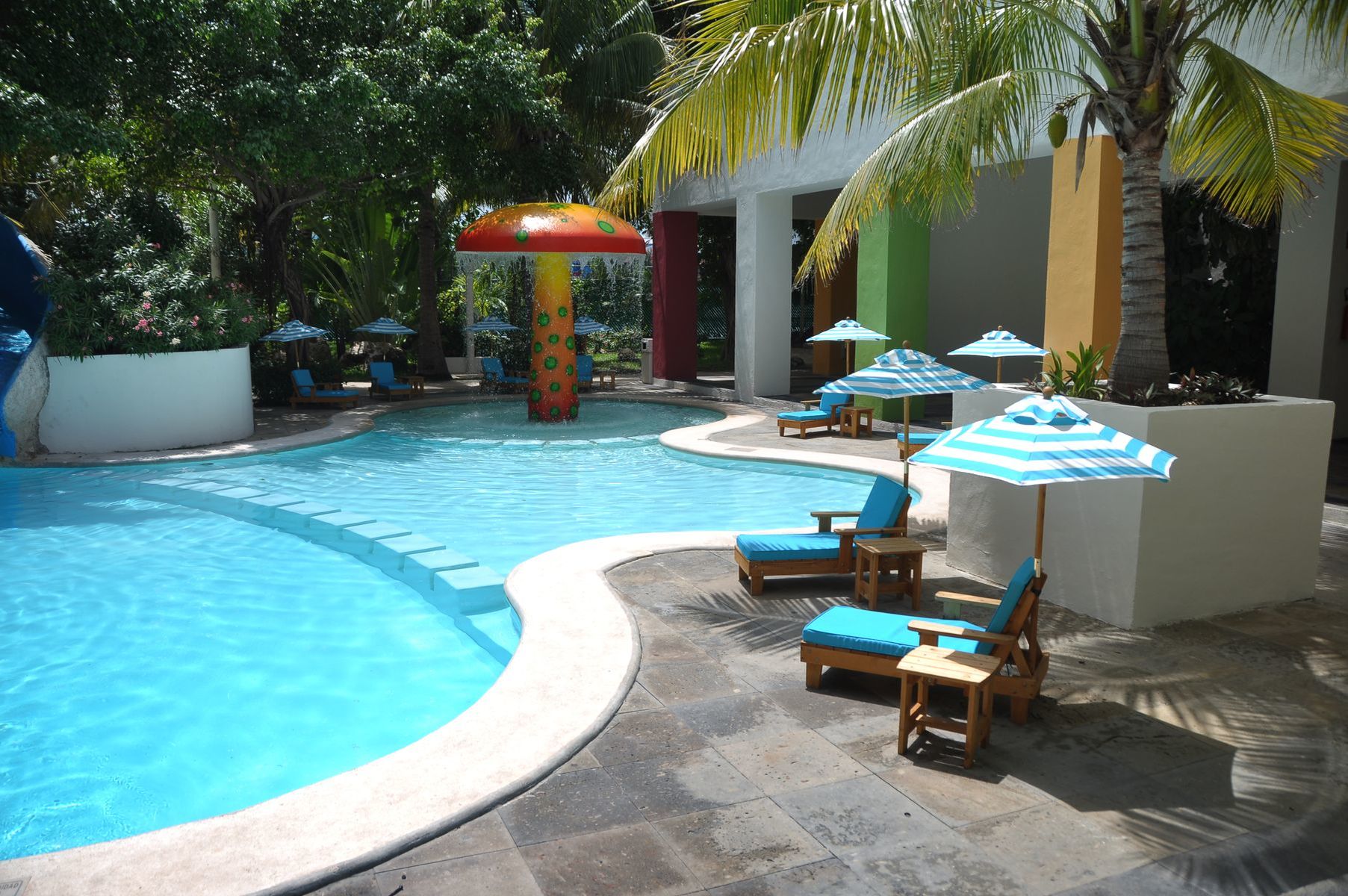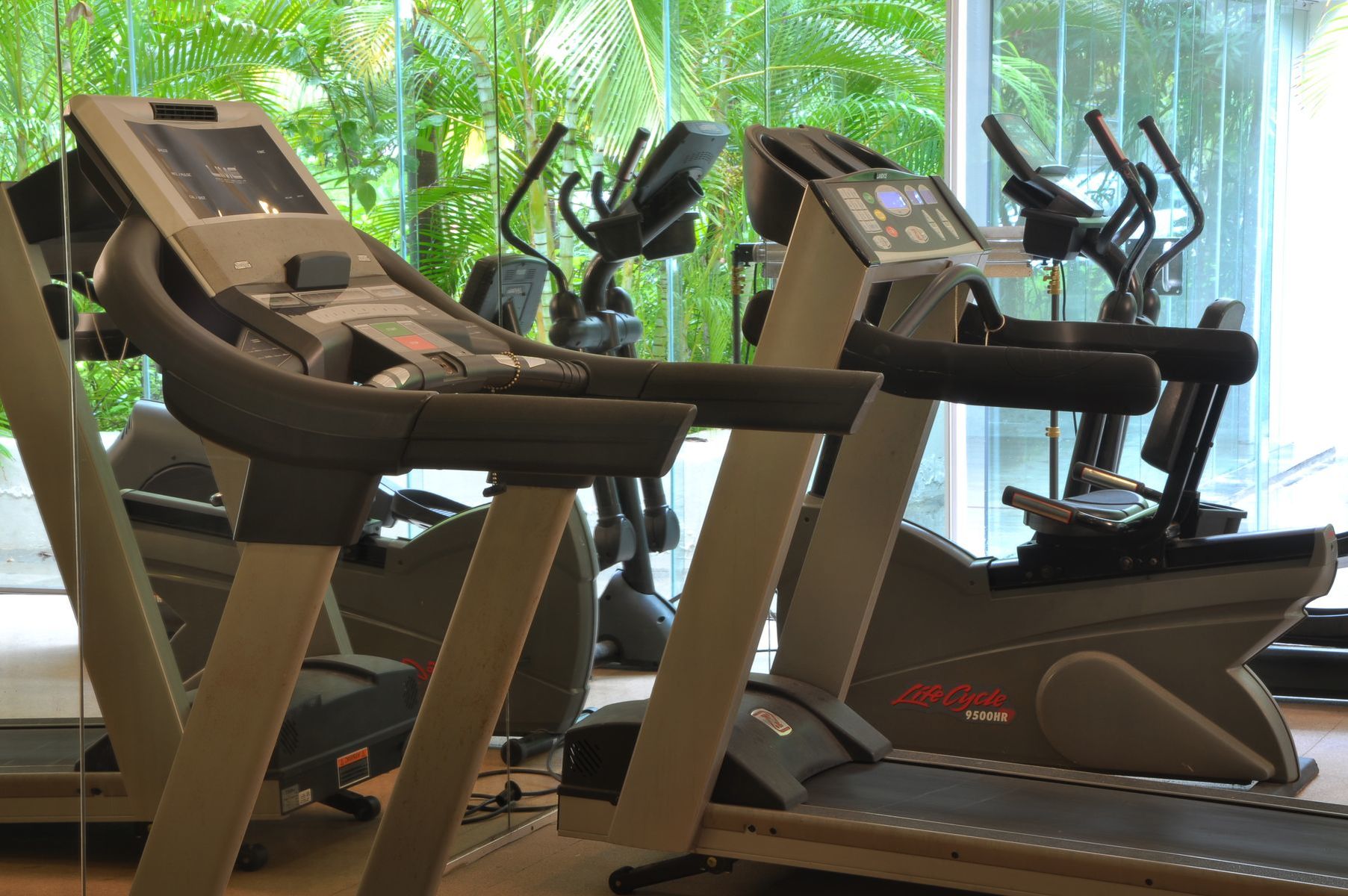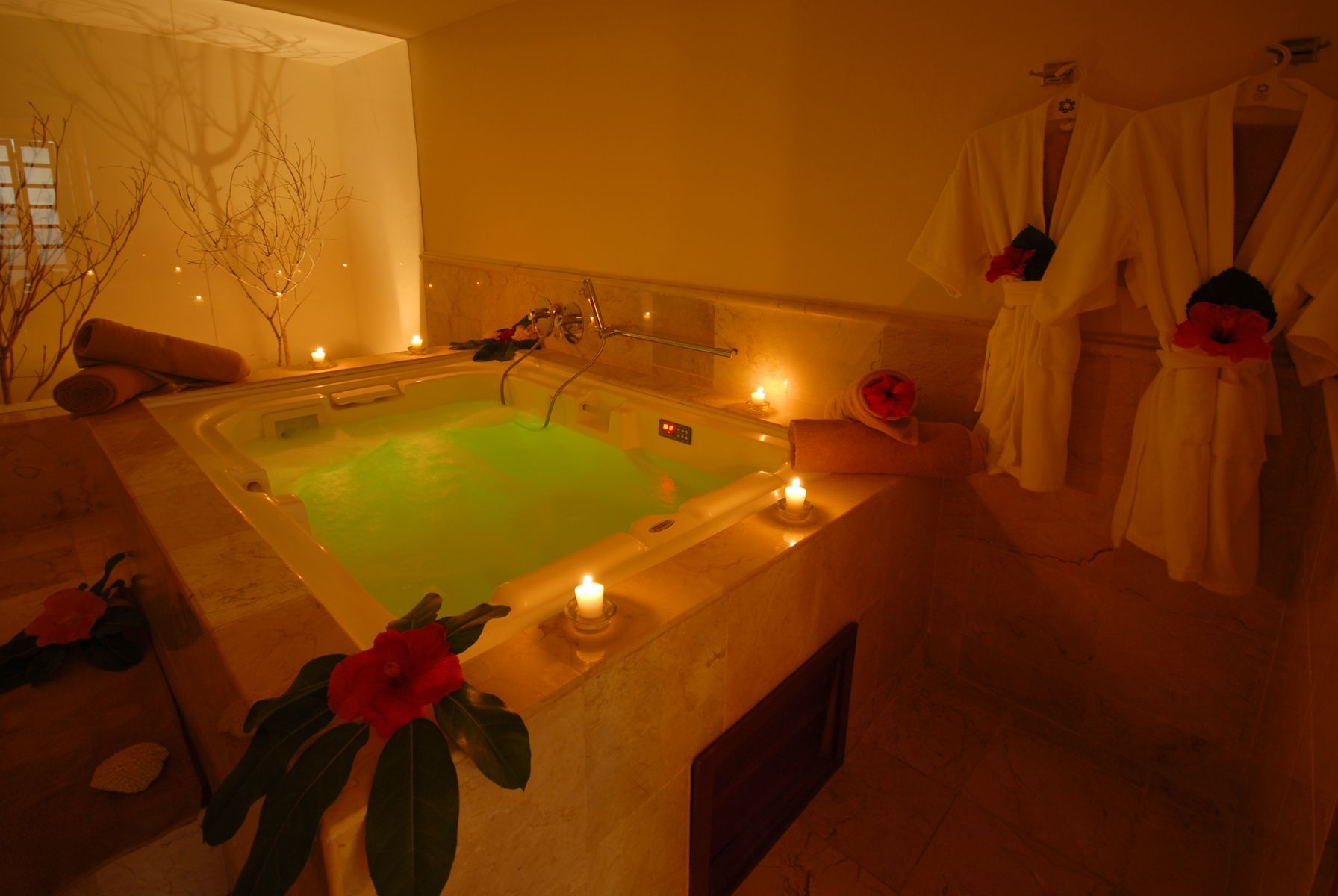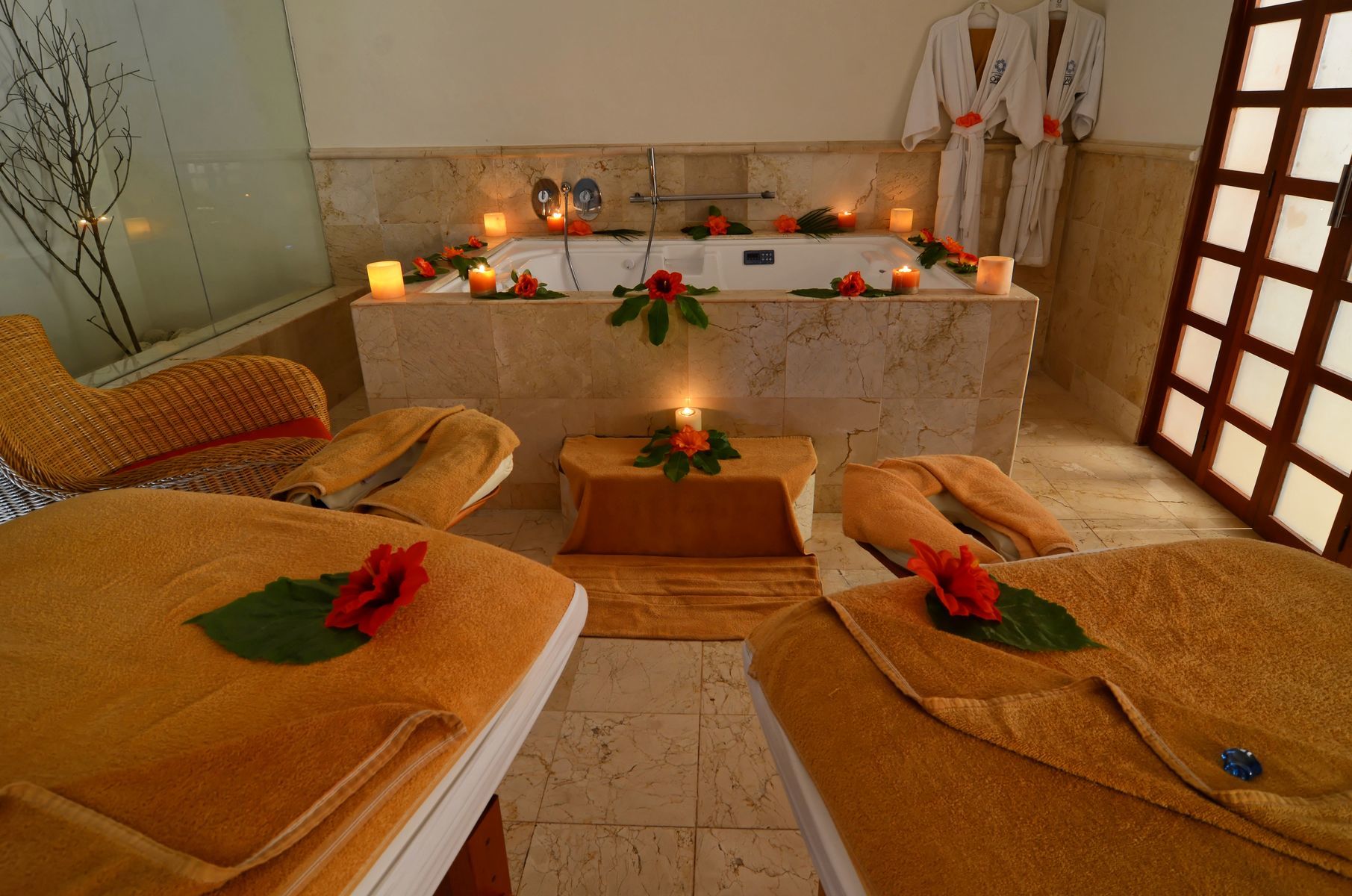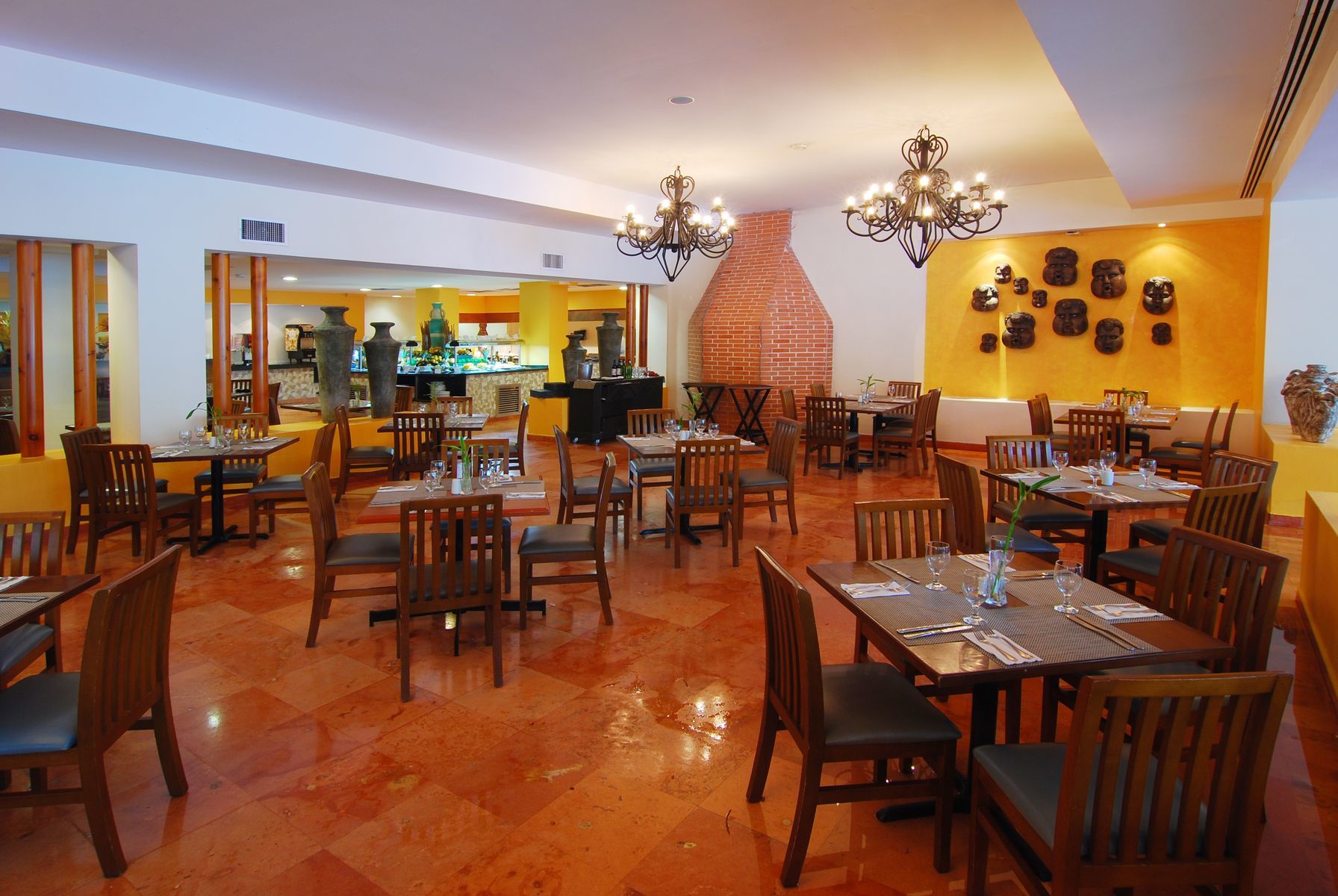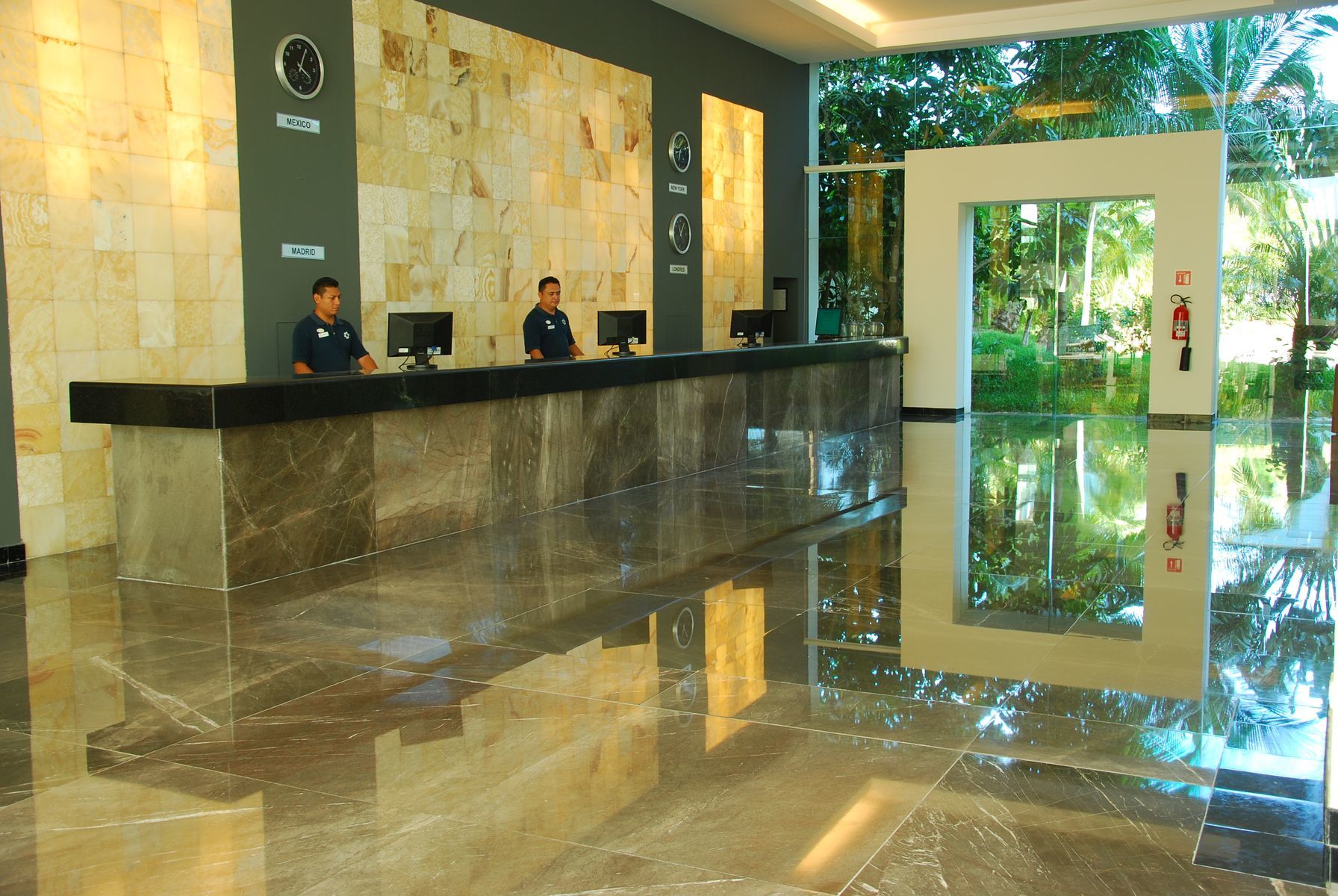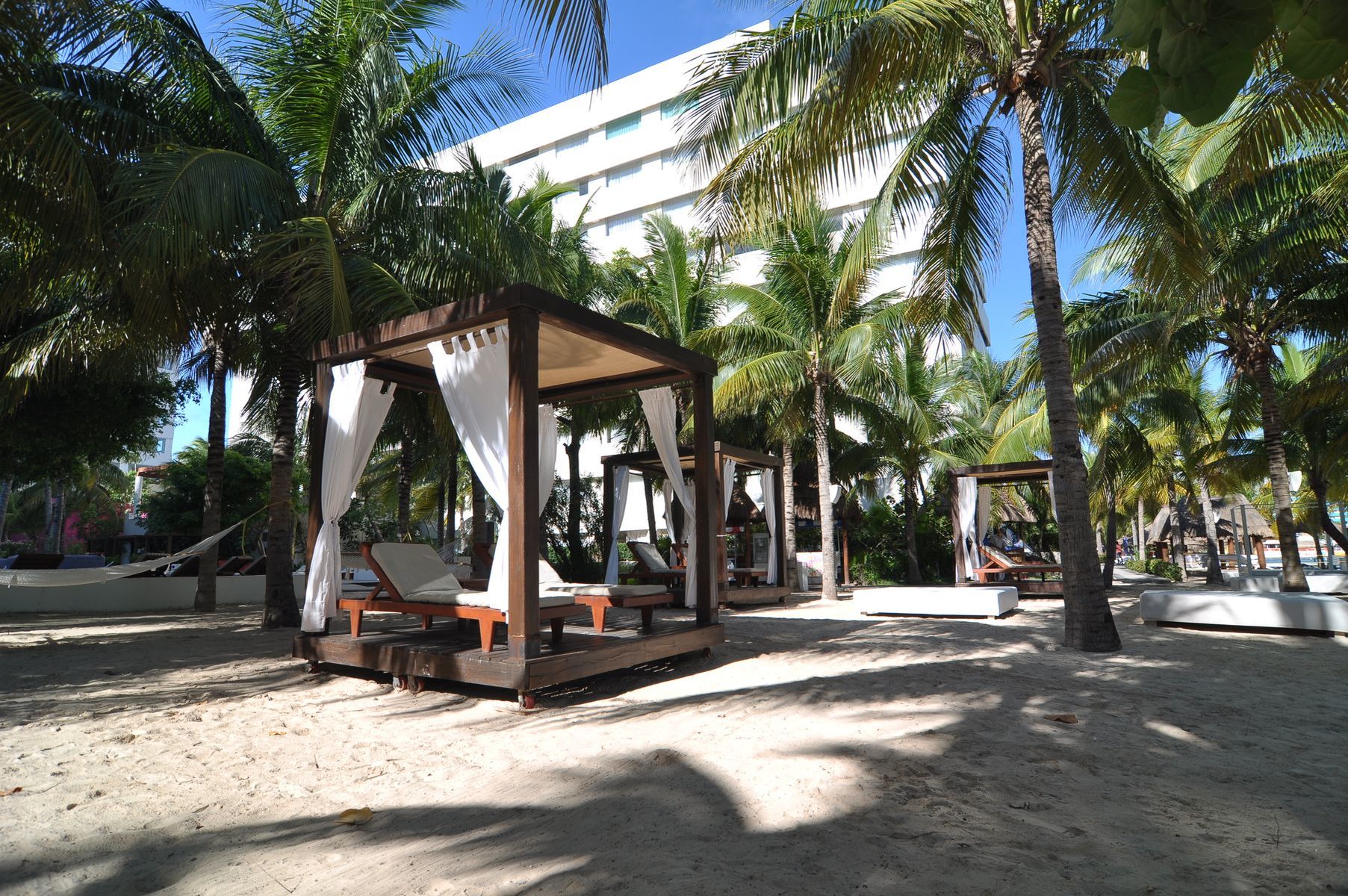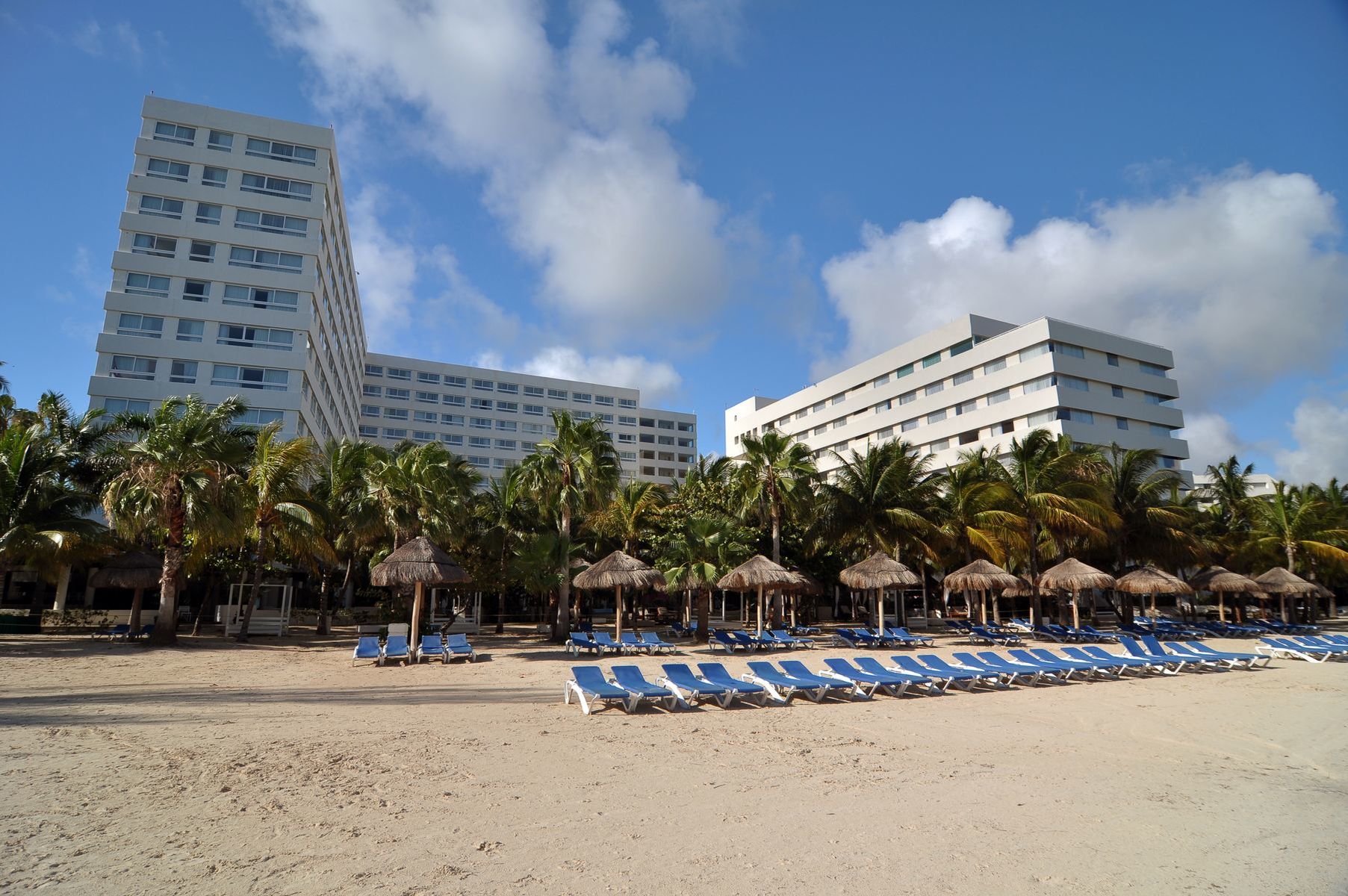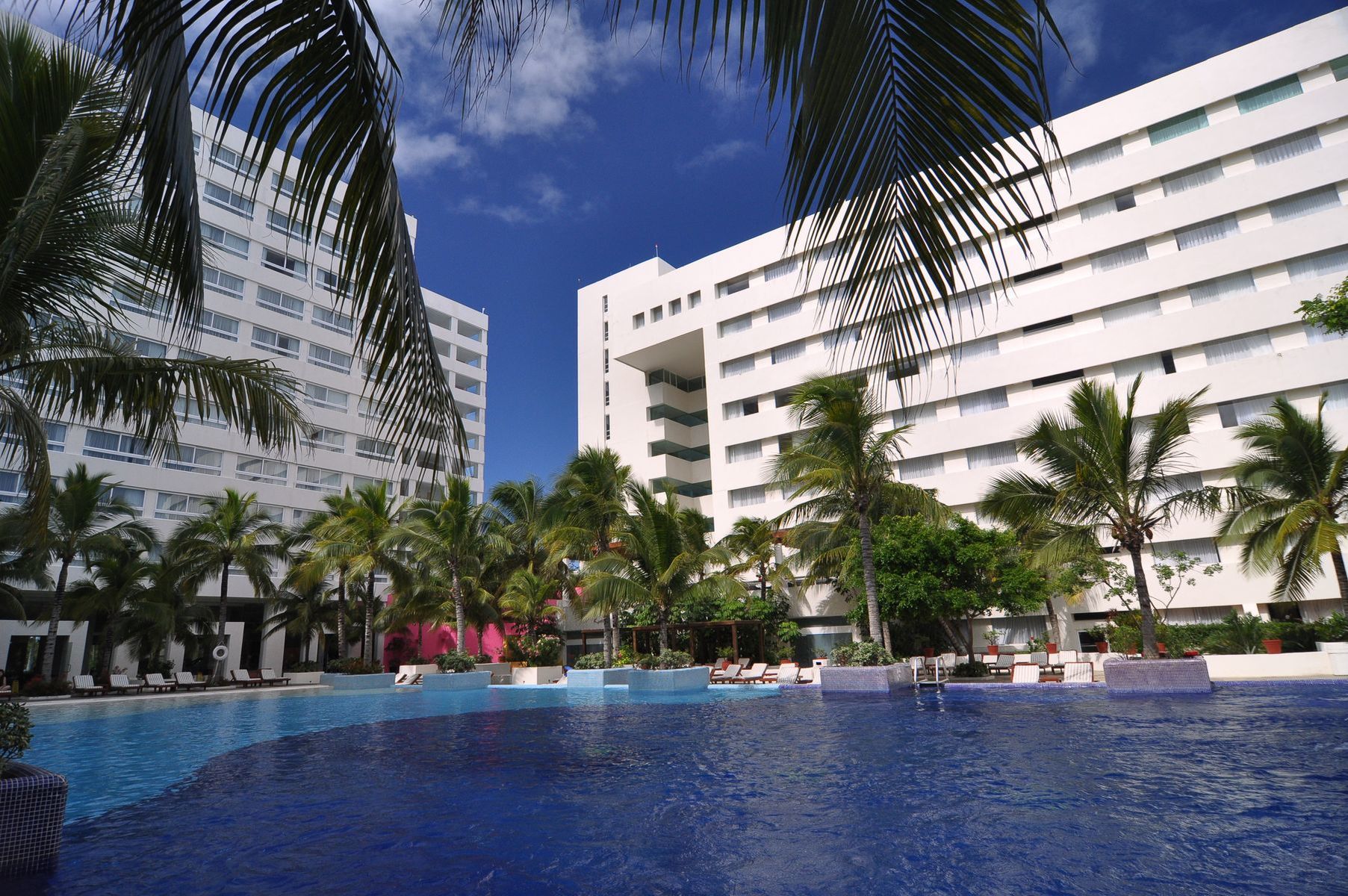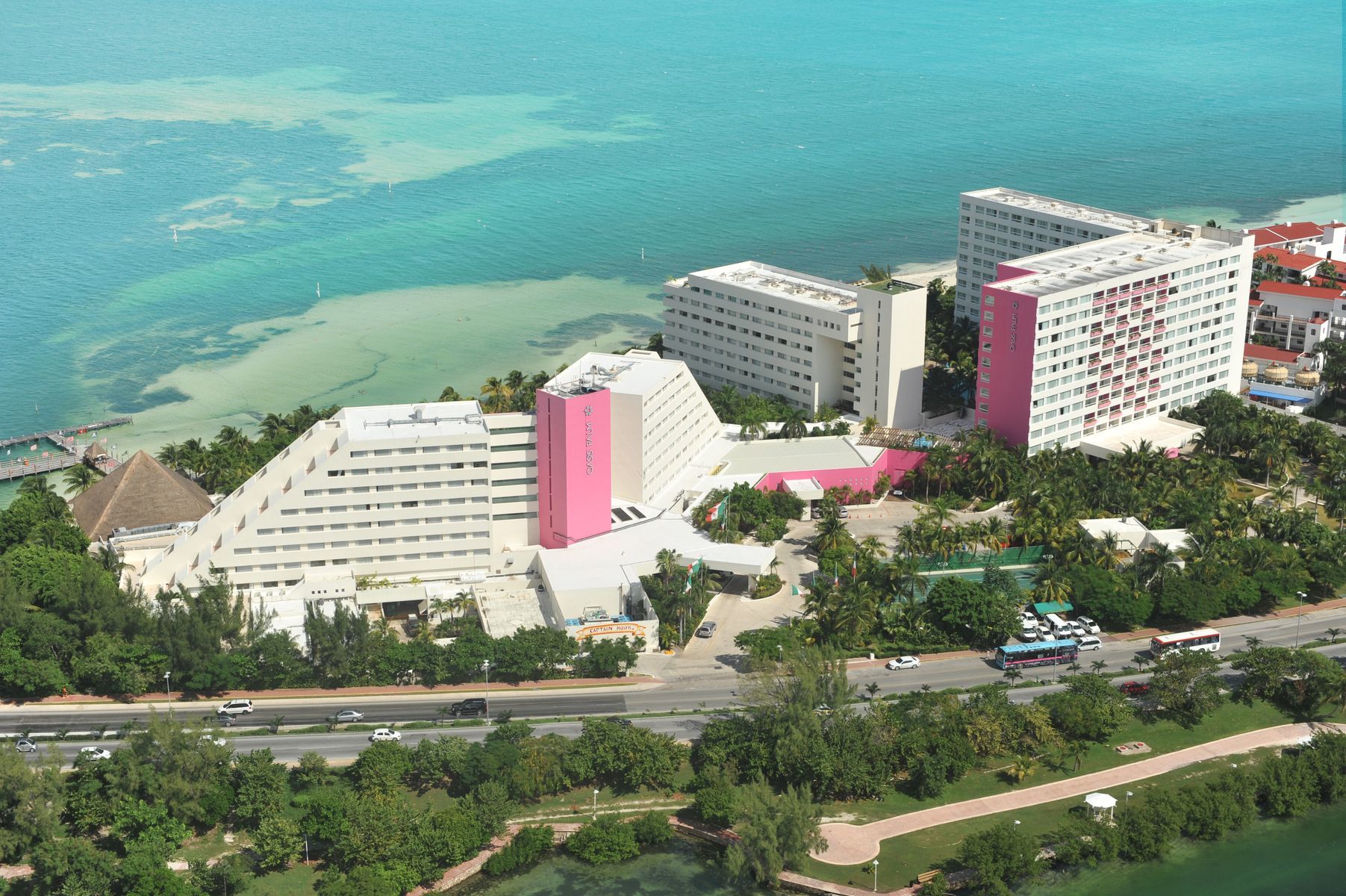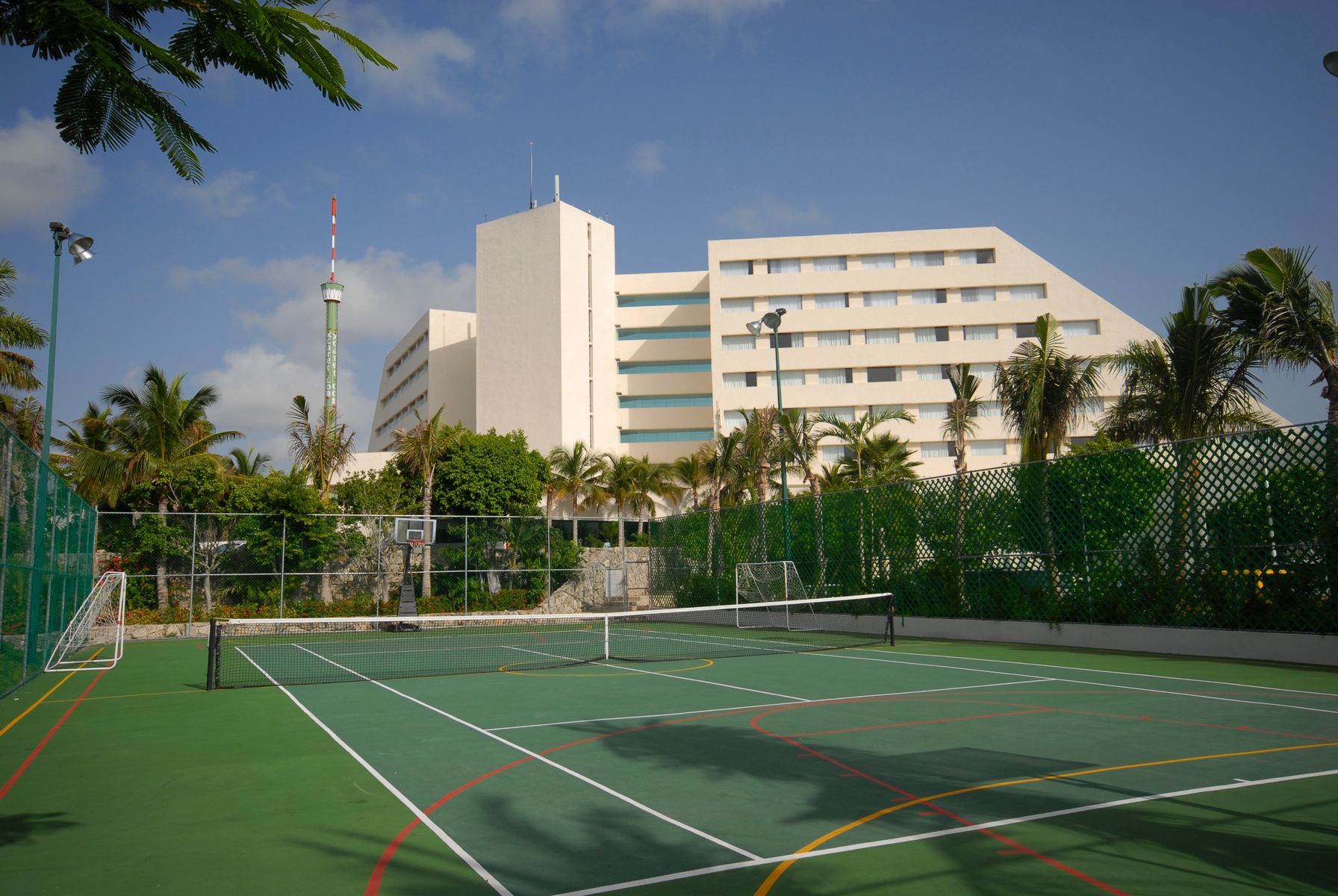 2/14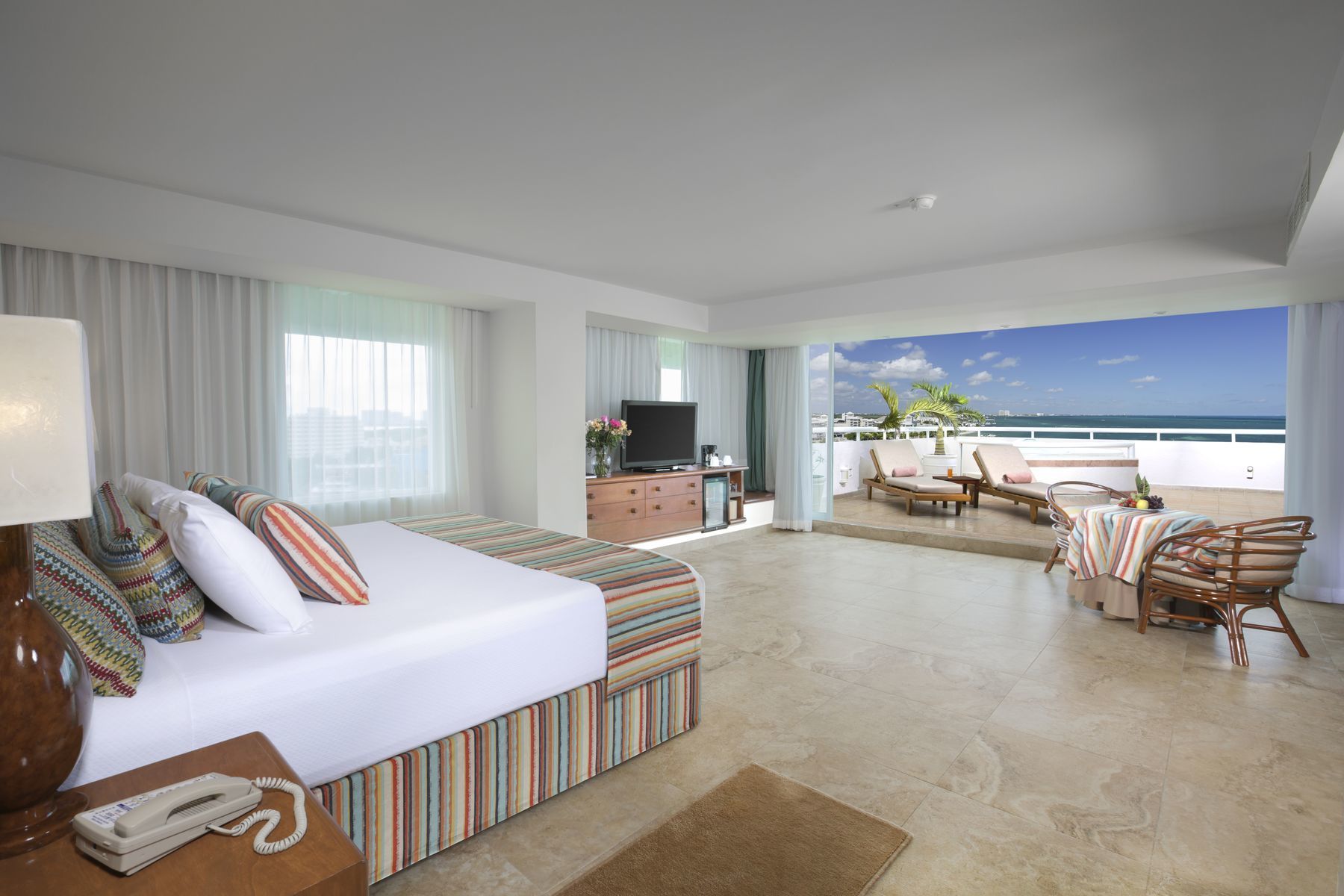 3/14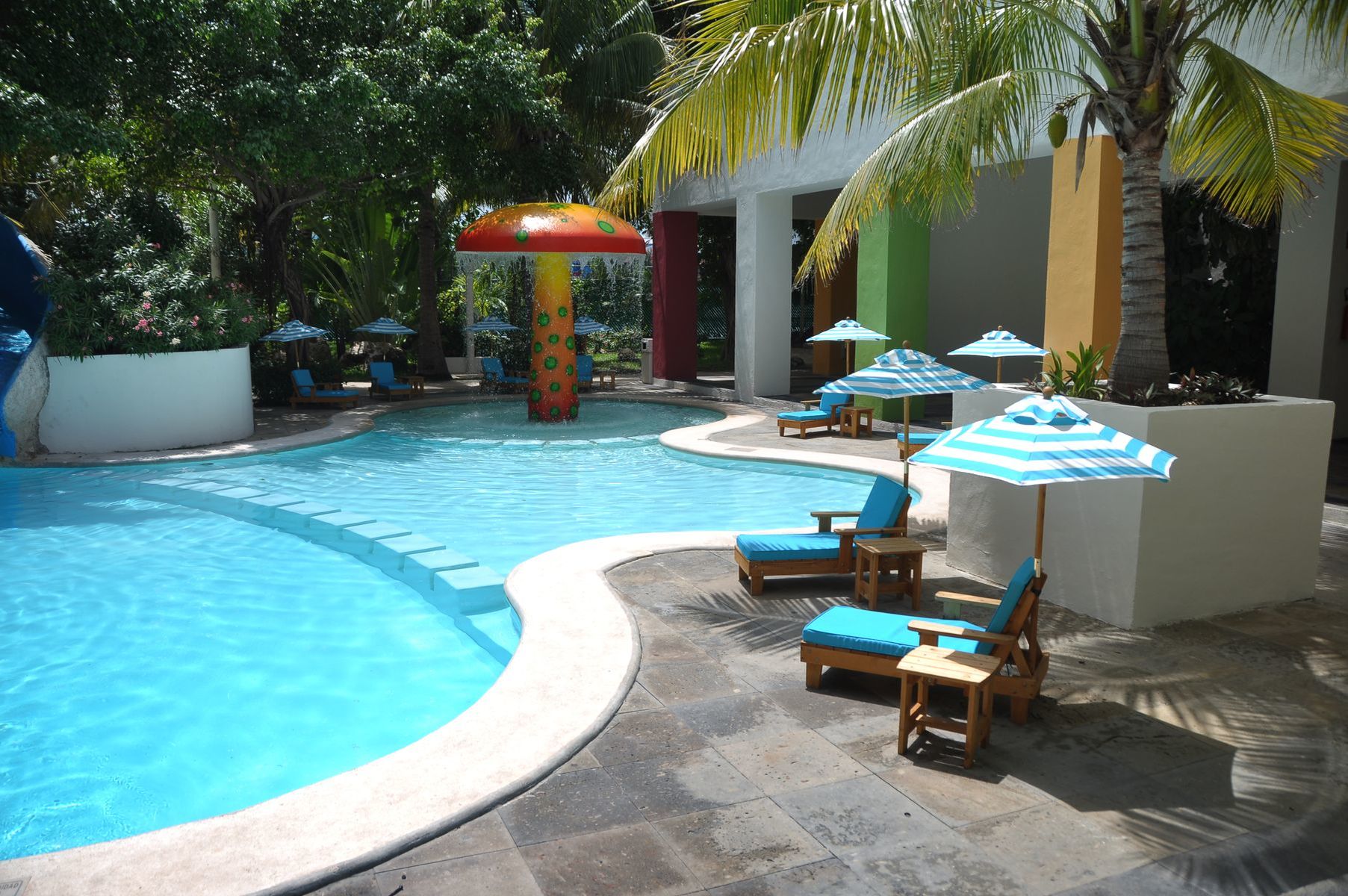 4/14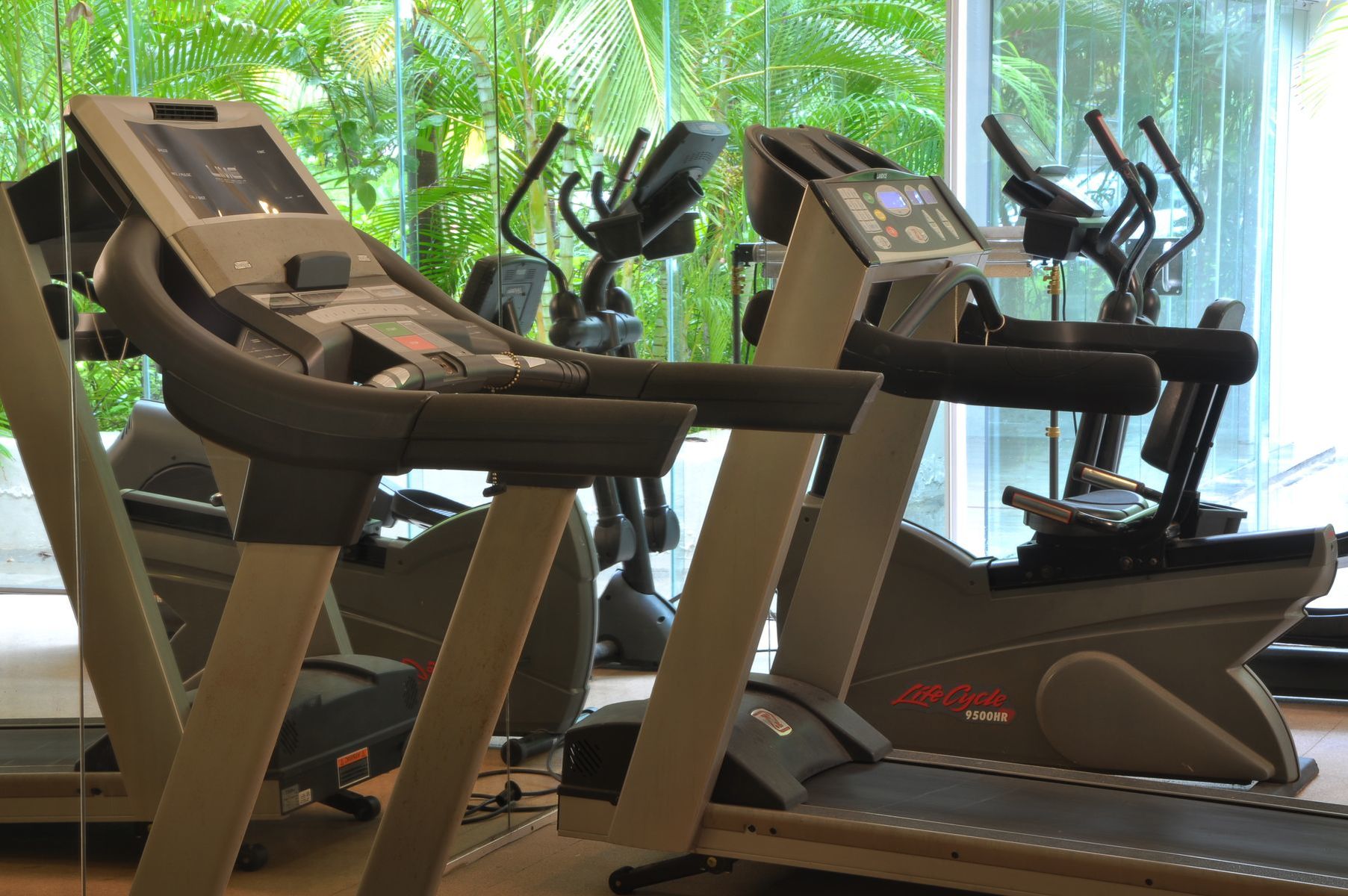 5/14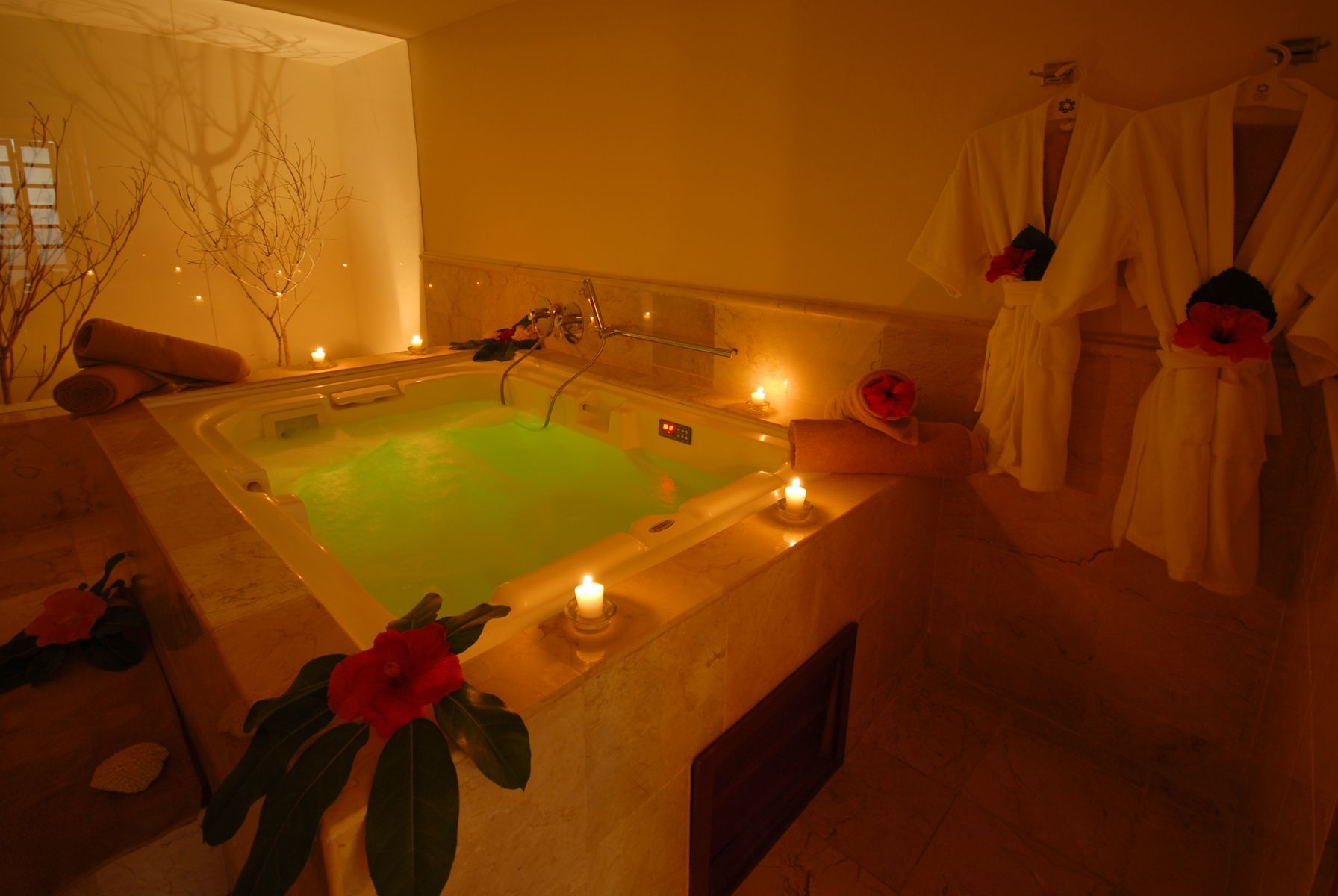 6/14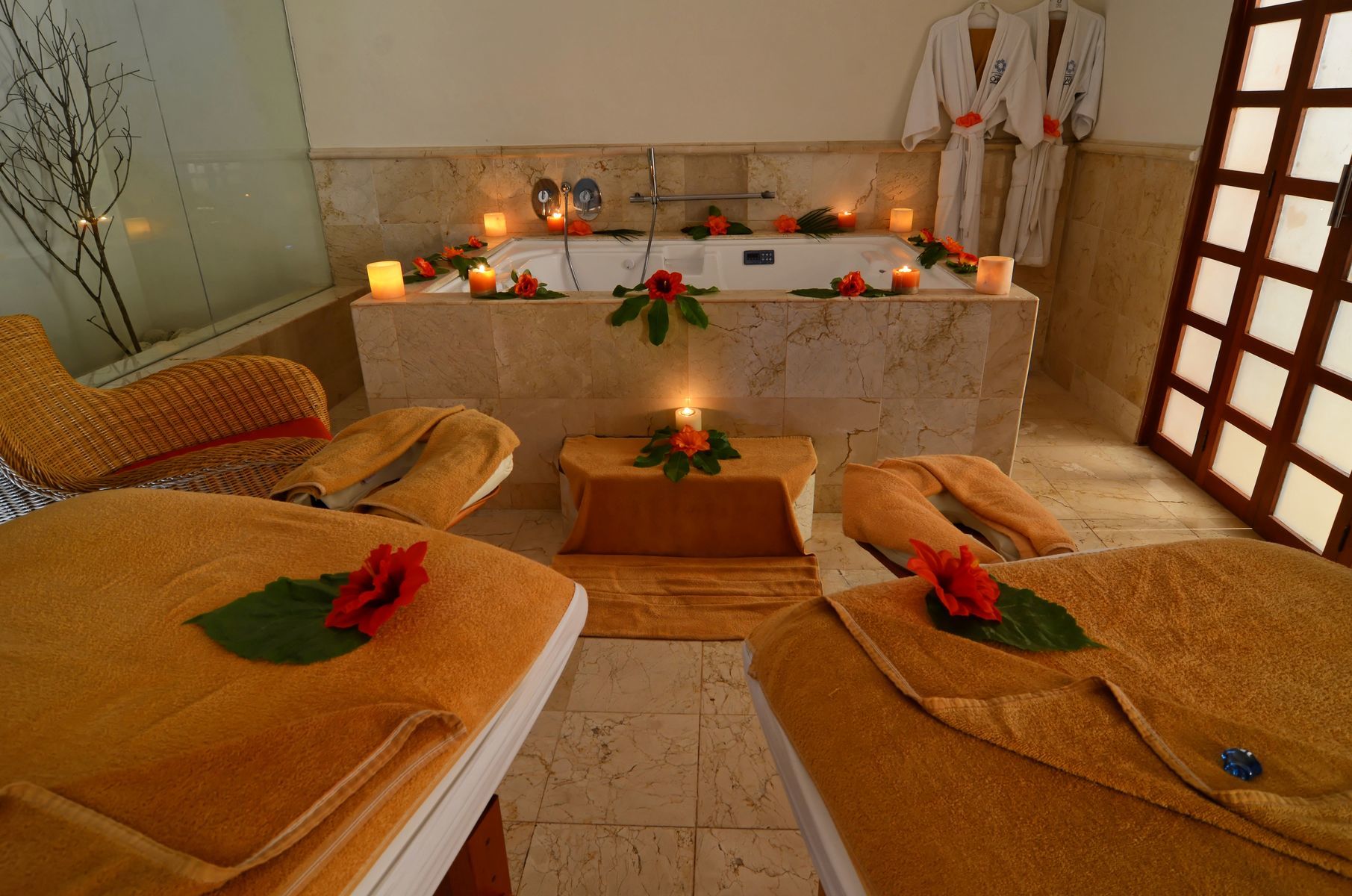 7/14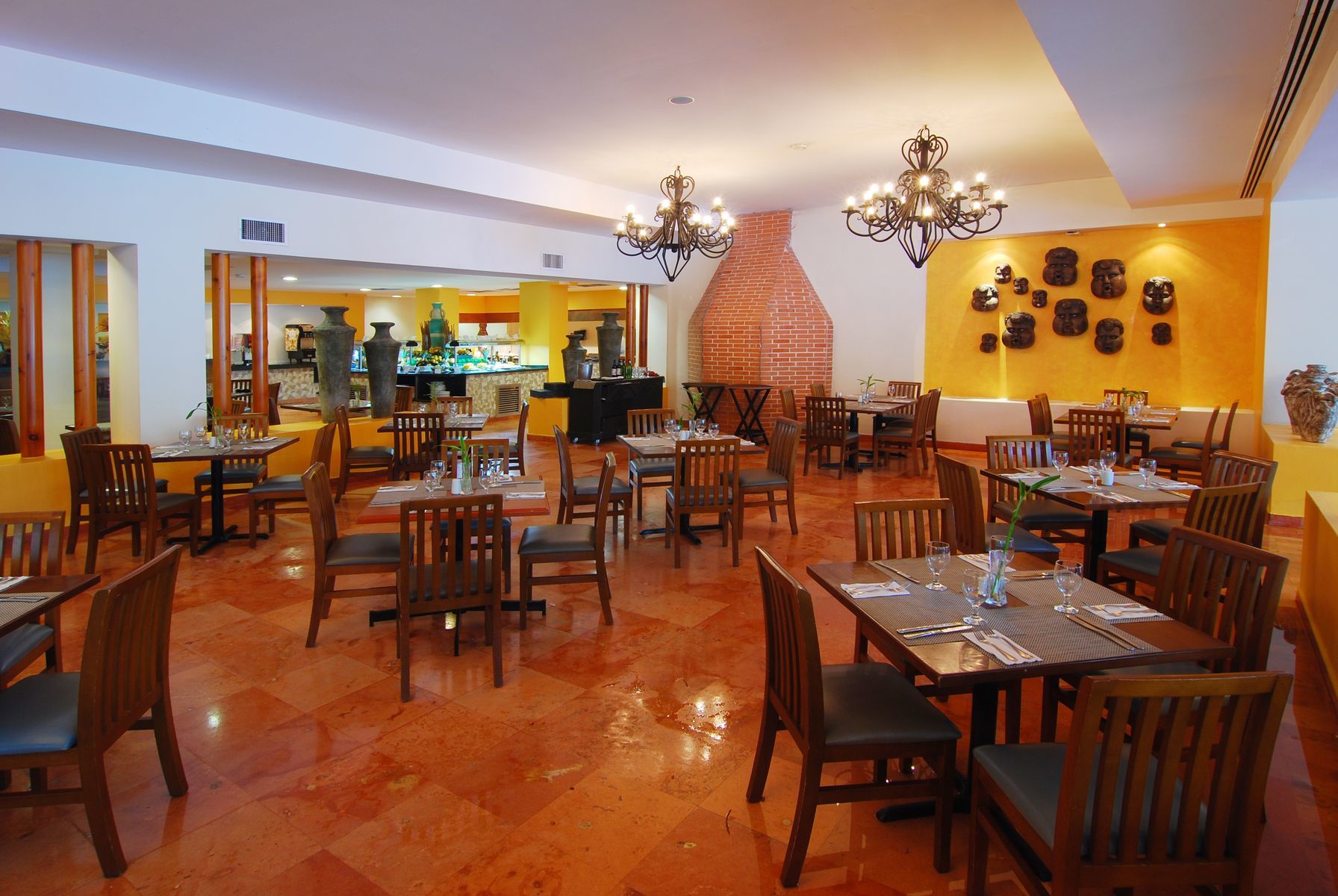 8/14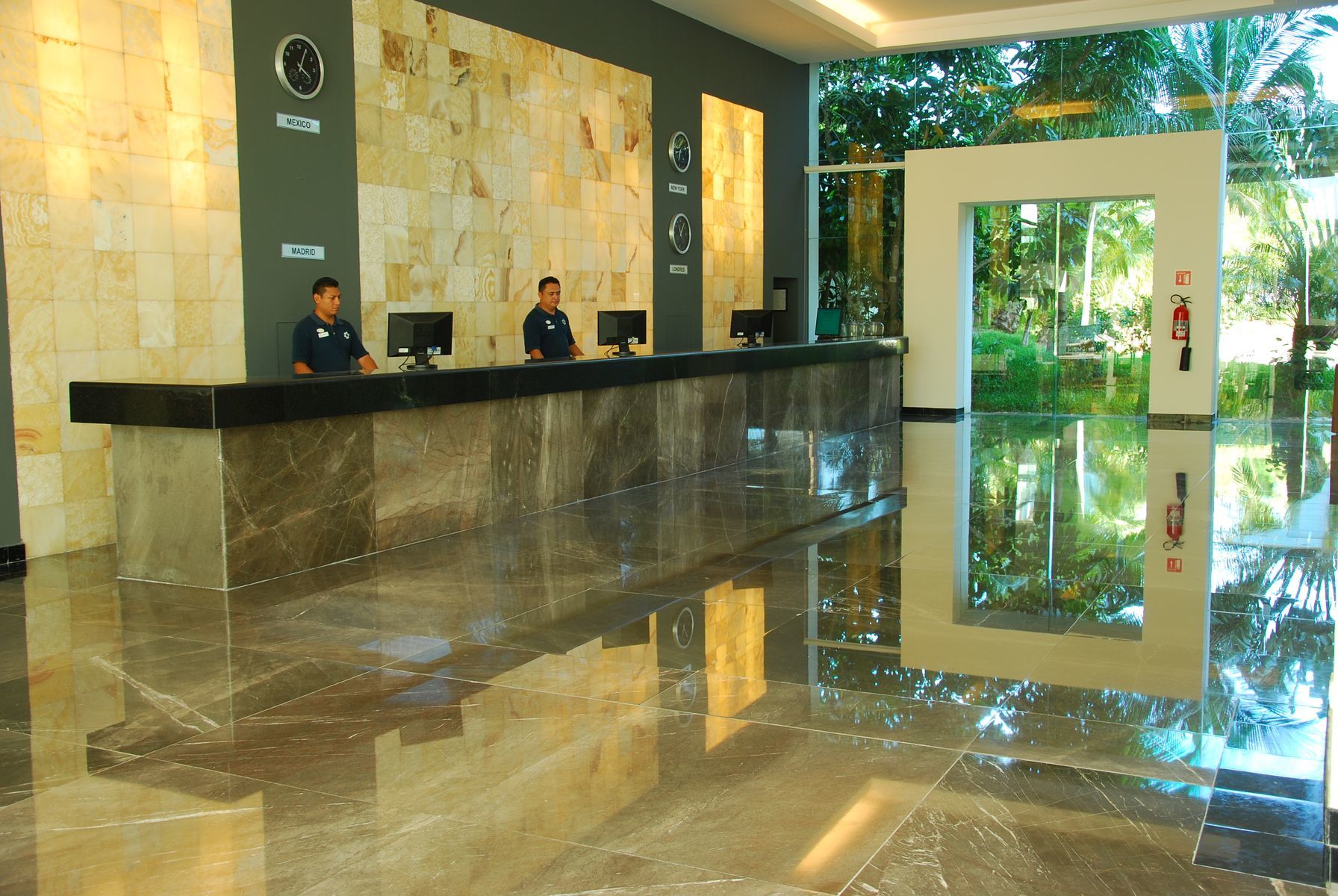 9/14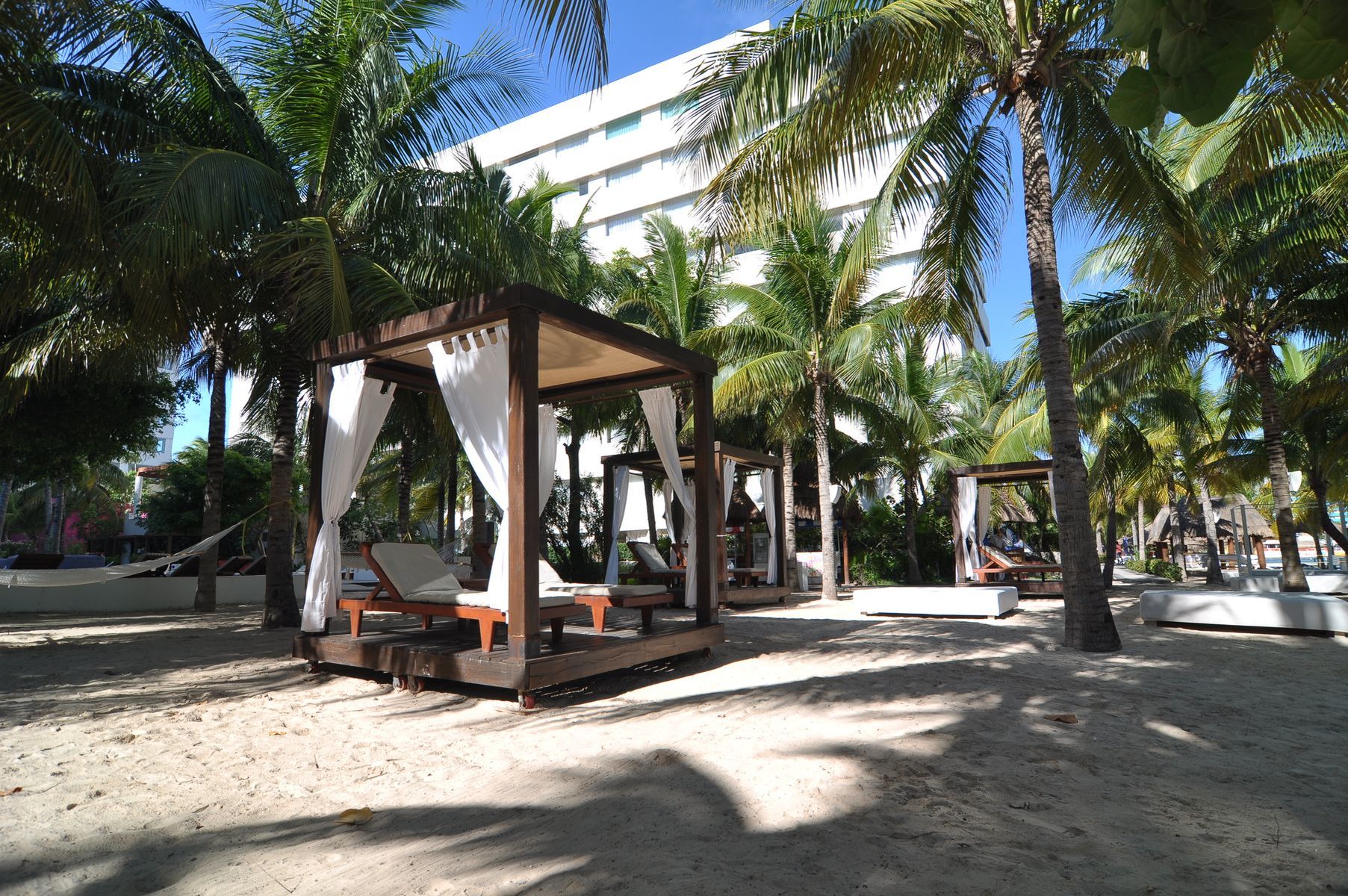 10/14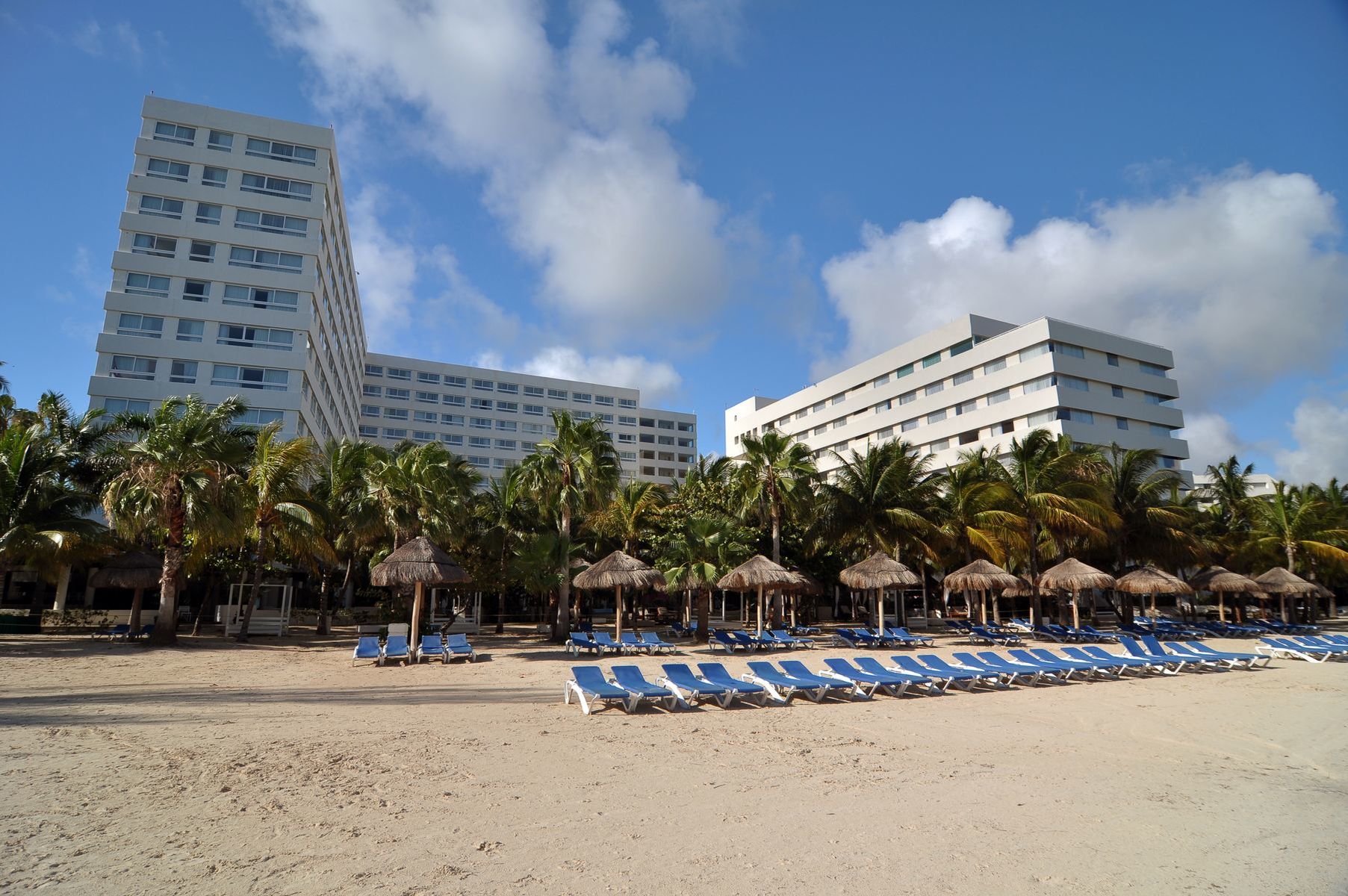 11/14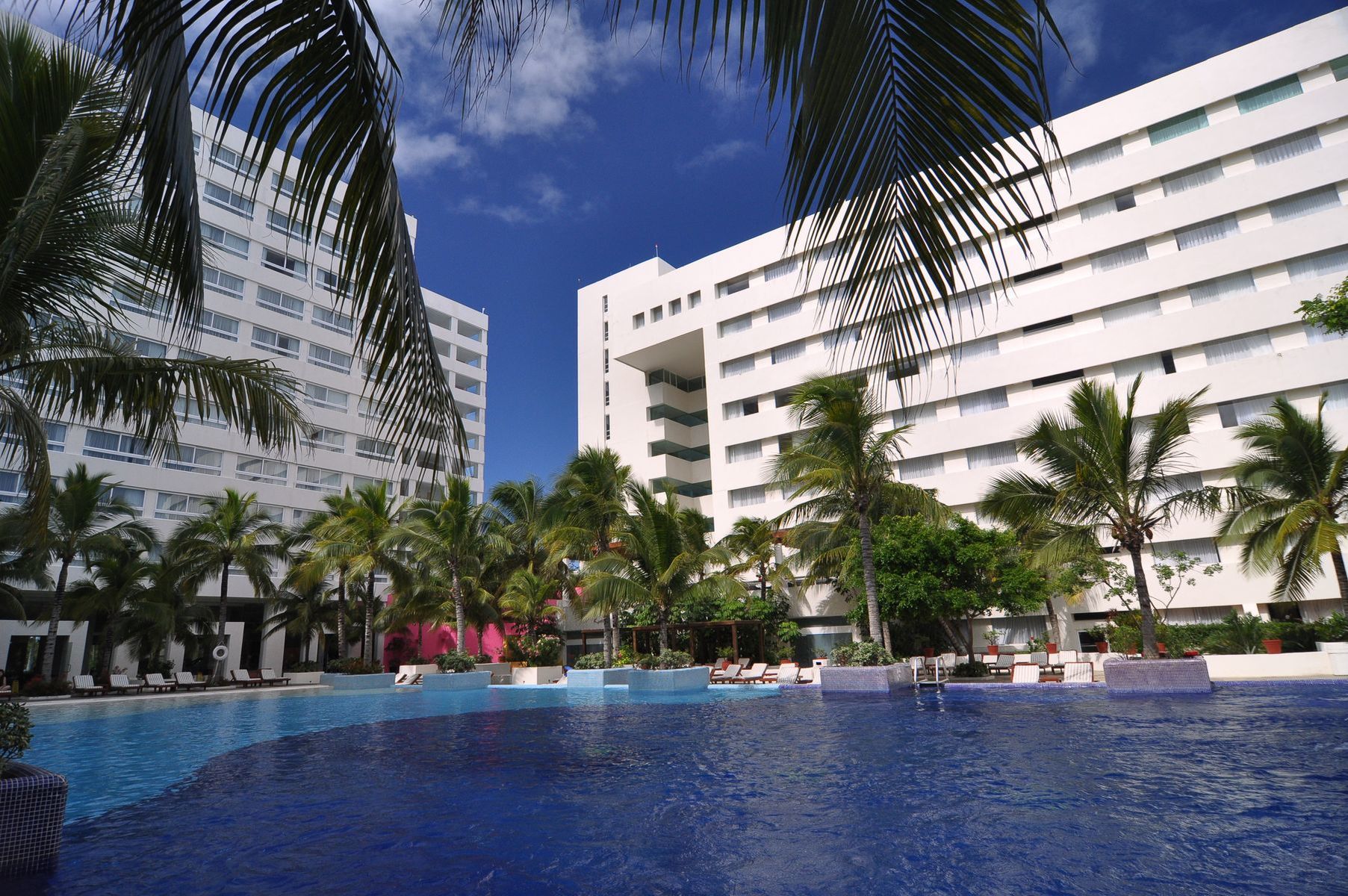 12/14
13/14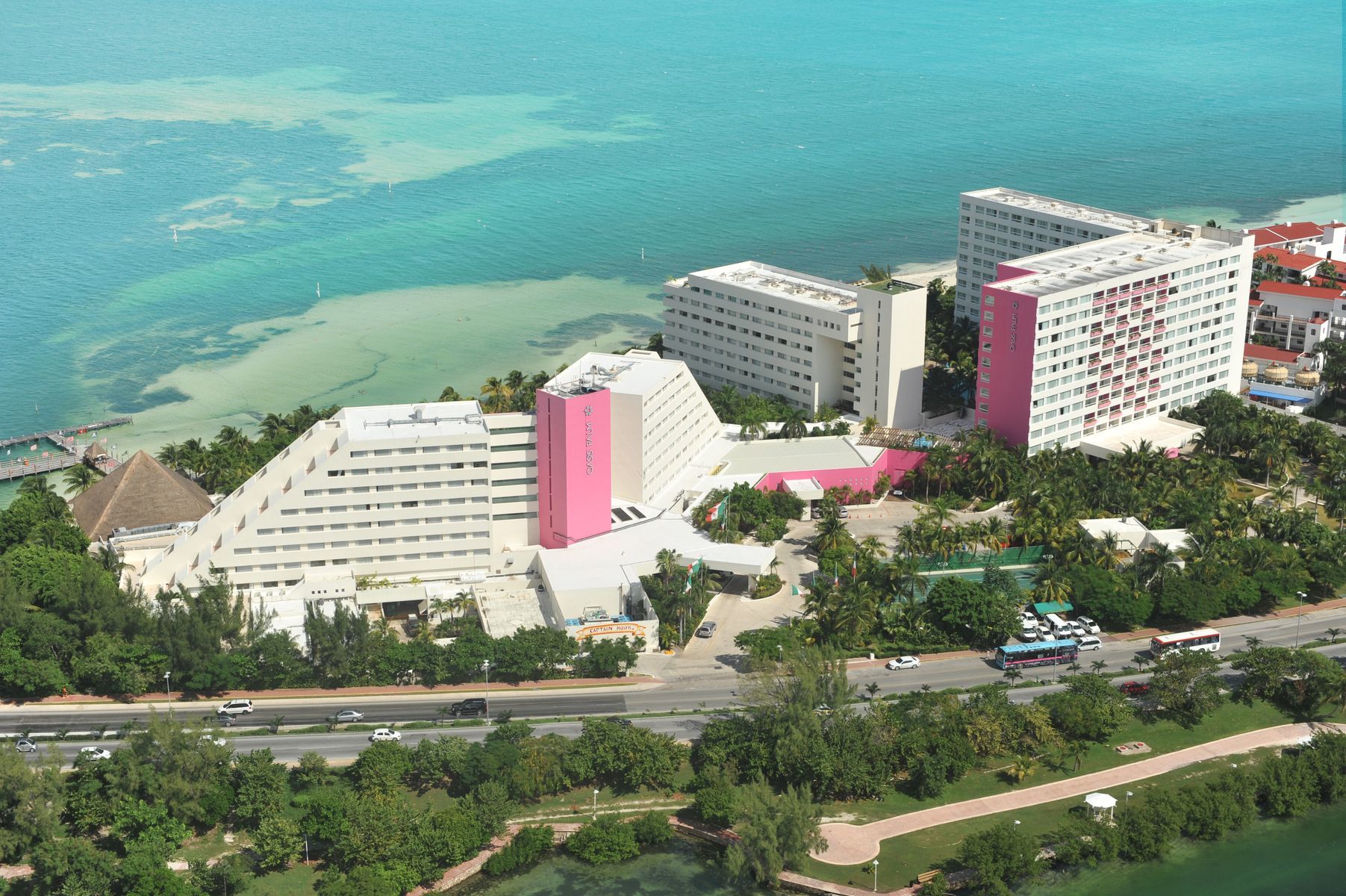 14/14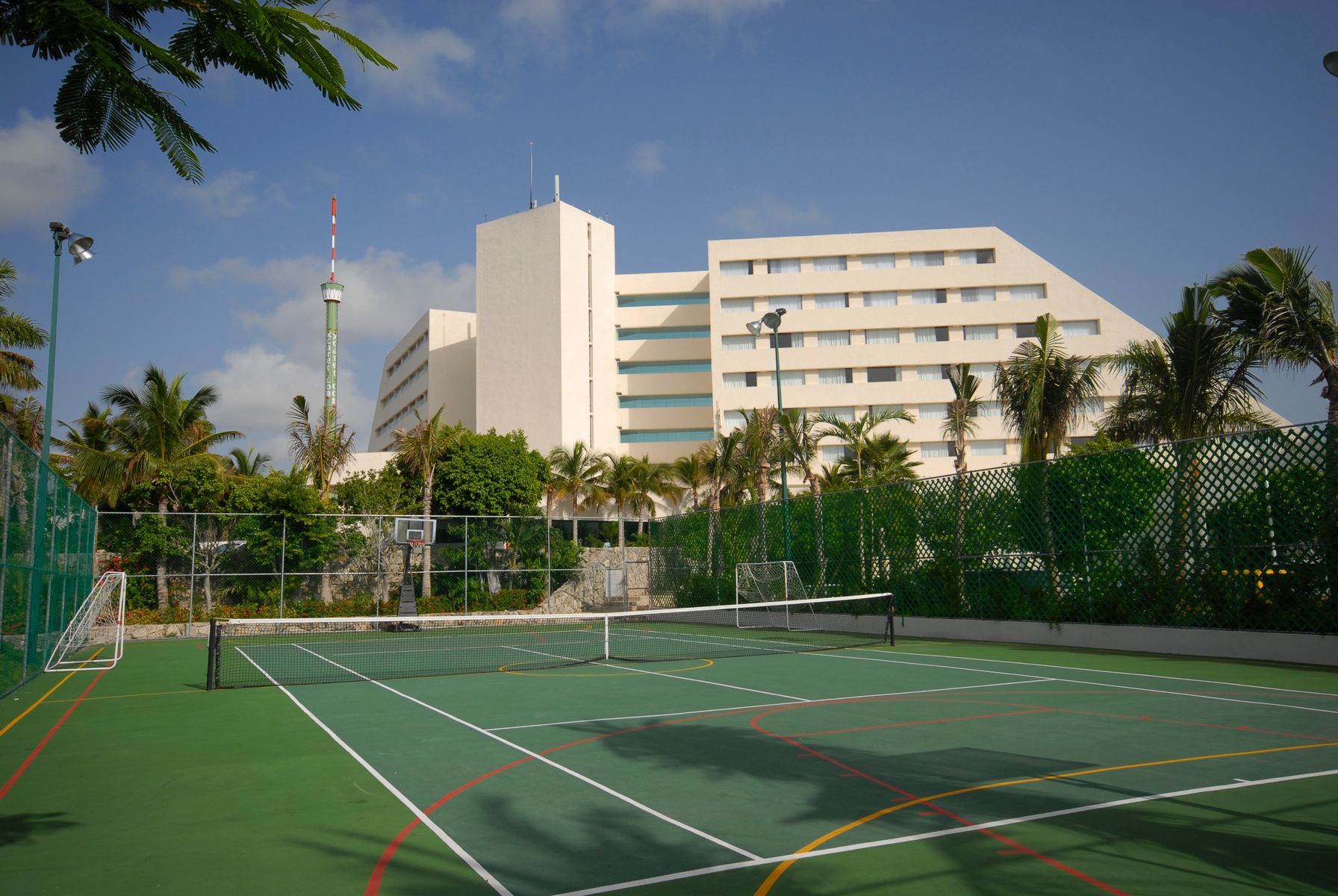 About this hotel
This all-inclusive beachfront resort boasts the ultimate fun for adults and families in Cancun. Here guests can enjoy dedicated family fun, adults-only and kids-only areas, including a fully supervised kids club. Kids will love the beach and pool park, water slides, Yucatan Jurassic River, arcade, kids restaurants, adventures onboard a pirate ship, and much more. Plus, the resort is situated on the north end of Cancun's hotel zone with a powdery white sand beach and calm, shallow water perfect for kids to splash around in. Grand Oasis Palm is the upgraded version of the Oasis Palm, offering extra inclusions like exclusive gourmet restaurants, enhanced room amenities and more. Dine on top quality cuisine ranging from trendy fusion food to traditional Mexican specialties that will surprise and delight the pickiest taste buds. While the kids are enjoying themselves at the kids club or watching cartoons with an in-room babysitter, parents can reconnect with a romantic dinner, spa treatment, or night cruise on the ocean.
Hotel Location:
Beachfront
North end of Cancun's Hotel Zone
23 kilometres from Cancun International Airport
Nearest Points of Interest
Puerto Cancun Golf course is nearby
UltraMar ferry to Isla Mujeres
AquaWorld Cancun
Why book this hotel?
Meal & beverage plans
All-inclusive plan
Breakfast, lunch, snacks and dinner daily
Unlimited local & imported alcoholic and non alcoholic drinks (certain premium beverages available with additional charge)
Unlimited buffet and à la carte dinners (reservations required at select restaurants and subject to availability)
Family Fun Zone
Pirata's Bay: Beach and pool park with zip-line, camping zone, open-air movie theater, splash zone pool area with slides and water trampoline, wading pool, and games aboard a docked pirate ship
The Arcade: Interactive video games such as racing, sports and dancing
Yucatan Jurassic River: Winding pool with games in a pre-historic dinosaur theme
Pirate Ship Adventure: 2-hour ocean cruise for the entire family, exclusive for Grand Oasis Palm guests, 2 tours per week, reservation required (made at resort), subject to availability
Additional Resort Services
Other services available at the resort include: 24-hour front desk, multilingual staff, currency exchange, elevator, concierge, security, parking lot, porter/bellhop
Oasis Exchange Privileges
Enjoy complimentary access to Grand Oasis Cancun during the day on an all-inclusive basis, with access to all resort restaurants, bars and facilities within the same category level as booked. Unique experiences at each resort give you an extraordinary variety of choices for dining, recreation and entertainment.

Valid for travel through 12/19/2021. Guests must visit the resort's concierge desk to make arrangements one day prior to visiting Grand Oasis Cancun. Program visiting hours are 9:00AM – 6:00PM. Transportation between resorts is not included but can be arranged. Fees may apply for some live entertainment. Not available February 21 through March 31. Other blackout dates and certain restrictions may apply. Program subject to change.
Exclusive Sian Ka'an Section (Adults only 21+)
Guests booking Sian Ka'an Room categories will receive the following exclusive inclusions:
Access to Careyes and the Sian Ka'an Beach Club
Sian Ka'an Lounge for private check-in with drinks and snacks
Early check-in and late checkout (subject to availability)
24-hour room service (no delivery fee)
Robes
Sian Ka'an minibars also include snacks
Sian Ka'an Junior and Master Suites includes a Jacuzzi or plunge pool inside or on the terrace
At the Sian Ka'an Beach Club; butler service including drinks, snacks, and beach towels
Student/Youth Policy
STUDENT / YOUTH POLICY (APPLICABLE YEAR-ROUND)
Legal age for check-in in Mexico is 18 years of age. All students under the age of 18 years old (but no less than 17 years of age) traveling without parent(s), will be required to present parental acknowledgement that the student is allowed to travel internationally and will accept full responsibility for their actions while on property. For every nineteen (19) students under the age of eighteen (18), one (1) adult chaperone (minimum 24 years of age) is required staying on property.

Student/Youth Travelers are defined as any person under 24 years of age, traveling without legal parent/guardian, and is applicable at ALL Oasis properties on a year-round basis.

Security Deposit: Any guests meeting the above-definition of "Student/Youth Travelers" are subject to the following security deposit: a $30.00 USD non-refundable student/youth insurance will be collected from each guest at the time of Hotel check-in. Acceptable form of payment: CASH only. Policy is mandatory, per person and not refundable.

As a general rule, Oasis Hotels & Resorts will only accept Student/Youth GROUPS at Grand Oasis Cancun (not applicable to family travel.
Play
Discover the ultimate family-friendly vacation at Play resorts with perks perfect for kids!

Play program highlights include:
Kids Eat, Play and Stay FREE1at all-inclusive resorts
Pre-boarding for families
Supervised kids' clubs and more!2
Dedicated pool areas of sections for kids2
Number of travellers: To add more travellers to your booking, select your hotel below, and on the next page you can update the number of travellers by clicking on "Change search" on the top right.
Play program: Only valid on vacation package bookings at participating hotels and resorts. Not applicable to groups. Subject to availability. Program is subject to change without notice. 1Clients are responsible for paying the flight portion of children's vacations, including air transportation charges, taxes, fees, and charges. Conditions may apply and vary by resort. Based on maximum hotel room occupancy. Refer to the «Best for» section of each hotel on aircanadavacations.com for full details. 2Only available at all-inclusive resorts in Mexico, the Caribbean and Central America.
Family Collection
Take your family on an unforgettable vacation with trips geared to the whole gang!
Keep everyone happy at the best all-inclusive family resorts offering dedicated kids' pools and supervised clubs. You can bring the whole family thanks to discounts for kids and the perks of our Play program. Book all-inclusive family vacation packages!
Number of travellers: To add more travellers to your booking in Mexico, the Caribbean, or South & Central America, simply select your hotel below, and on the next page you can update the number of travellers by clicking on "Change search" on the top right.
Bed size(s): Two bedrooms, one with 1 king bed and the other with 2 double beds
Rooms: Ocean or lagoon view, Two bathrooms (one in each room)
Internet: WiFi
Air conditioning: Yes

Room facilities: HD flat screen cable television, In-room safe, Minibar (stocked upon arrival with bottled water, soft drinks & beer), Hairdryer, Radio alarm clock, USB ports, Bath amenities, Beach towels, 24-hour room service (delivery fee applies $), Coffee maker, Iron and ironing board, Roll-away beds and cribs on request (subject to availability), Private check-in and check-out, Express check-out

Occupancy: 2-4 adults; 2 adults & 3 children; 3 adults & 2 children; 4adults & 1 child (maximum occupancy of 5)
Bed size(s): 1 king bed or 2 double beds (assigned at check-in based on availability)
Rooms: Run-of-the-house view, Bathroom
Air-conditioning: Yes
Internet: WiFi

Room facilities: HD flat screen cable television, In-room safe, Minibar (stocked upon arrival with bottled water, soft drinks & beer), Hairdryer, Radio alarm clock with USB port, Bath amenities, Beach towels, 24-hour room service (delivery fee applies $), Coffee maker, Iron and ironing board, Roll-away beds and cribs on request (subject to availability), Private check-in and check-out, Express check-out

Occupancy: 1-3 adults ; 3 adults and 1 child; 2 adults and 3 children; 3 adults and 2 children (maximum occupancy of 5)
Bed size(s): 1 king bed or 2 double beds (assigned at check-in based on availability)
Rooms: Ocean view, Bathroom
Air-conditioning: Yes
Internet: WiFi

Room facilities: HD flat screen cable television, In-room safe Minibar (stocked upon arrival with bottled water, soft drinks & beer), Hairdryer, Radio alarm clock, USB ports, Bath amenities, Beach towels, 24-hour room service (delivery fee applies $), Coffee maker, Iron and ironing board, Roll-away beds and cribs on request (subject to availability), Private check-in and check-out, Express check-out
Occupancy: 1-3 adults ; 3 adults and 1 child; 2 adults and 2 children (maximum occupancy of 4)
Bed size(s): 1 king bed
Rooms: Ocean or lagoon view, Jacuzzi or plunge pool inside or on terrace, Bathroom
Internet: WiFi
Air conditioning: Yes

Room facilities:
24-hour room service, Robes, HD flat screen cable television, In-room safe, Minibar (stocked upon arrival with bottled water, soft drinks, beer & snacks), Hairdryer, iPod console & radio alarm clock, USB ports, Bath amenities, Beach towels, Coffee maker, Iron and ironing board, Roll-away beds and cribs on request (subject to availability), Private check-in and check-out, Early check-in and late check-out (subject to availability), Express check-out

Max Occupancy: 1-2 adults

Bed size(s): 1 king bed
Rooms: Ocean or lagoon view, Bathroom
Internet: WiFi
Air conditioning: Yes

Room facilities:
24-hour room service, Robes, HD flat screen cable television, In-room safe, Minibar (stocked upon arrival with bottled water, soft drinks, beer & snacks), Hairdryer, iPod console & radio alarm clock, USB ports, Bath amenities, Beach towels, Coffee maker, Iron and ironing board, Roll-away beds and cribs on request (subject to availability), Private check-in and check-out, Early check-in and late check-out (subject to availability), Express check-out

Max Occupancy: 1-2 adults (maximum occupancy of 2)


Family Fun Suite - Vancouver Gateway Only
Bed size(s): 1 king-size bed and 2 double beds
Rooms: Ocean or lagoon view, Two connecting bedrooms (one designed for kids with a jungle or under-the-sea theme and two double beds, the other with king-size bed, full bathroom
Internet: Yes ($)
Air conditioning: Yes

Room facilities
Flat screen cable television, Direct-dial telephone($), In-room safe ($), Mini-bar restocked every two days with soft drinks, beer and bottled water, Coffee maker, Beach towels, USB ports, iPod docking station, Radio alarm clock, Iron & ironing board, Hairdryer, Bath amenities

Occupancy: 2-4 adults ; 3 adults and 1 child ; 2 adults and 2 children ; 1 adults and 3 children (maximum occupancy of 4)
Hotel Room - Vancouver Gateway Only
Bed size(s): 1 king-size bed or 2 double beds
Air conditioning: Yes
Internet: Yes ($)

Room facilities: Full bathroom, 42 inch flat screen cable television, Direct-dial telephone($), In-room safe ($), Hairdryer, Radio alarm clock, Bath amenities, Beach towels

Occupancy: 1-4 adults ; 3 adults and 1 child ; 2 adults and 2 children ; 1 adults and 3 children (maximum occupancy of 4)

Ocean View - Vancouver Gateway Only
Bed size(s): 1 king-size bed or 2 double beds
Rooms: Ocean view
Internet: Yes ($)
Air conditioning: Yes

Room facilities
Full bathroom, 42 inch flat screen cable television, Direct-dial telephone($), In-room safe ($), Hairdryer, Radio alarm clock, Bath amenities, Beach towels
Occupancy: 1-4 adults ; 3 adults and 1 child ; 2 adults and 2 children ; 1 adults and 3 children (maximum occupancy of 4)
Sunset Room - Vancouver Gateway Only
Bed size(s): 1 king-size bed or 2 double beds
Rooms: Lagoon view
Internet: Yes ($)
Air conditioning: Yes

Room facilities: Full bathroom, 42 inch flat screen cable television, Direct-dial telephone($), In-room safe ($), Hairdryer, Radio alarm clock, Bath amenities, Beach towels
Occupancy: 1-4 adults ; 3 adults and 1 child ; 2 adults and 2 children ; 1 adults and 3 children (maximum occupancy of 4)
Location
Blvd. Kukulcan Km. 4.5 Sección C Lote 1., Hotel Zone Riviera Maya, 77500, MX